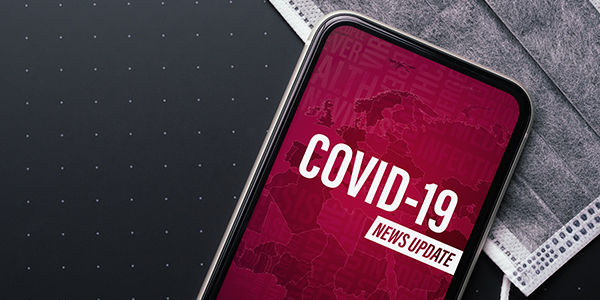 NYSFDA's first and most important priority is the health and safety of our members, your staff and the families you serve, and the well-being of our employees. As we're dealing with COVID-19 (coronavirus), here is some helpful information.
Proactive health and hygiene practices are a must. Proper hand washing, minimal contact, respiratory etiquette and staying home when sick is important in reducing the spread of the virus. We encourage all funeral service professionals to follow Standard Precautions and use proper PPE when handling decedents. There is also new research on the transmission of coronavirus: click here to read abstract (January 2021).
Over the past several months NYSFDA has provided timely information and resources regarding the COVID-19 pandemic. We will continue to provide updates to our members via email and on this webpage. Please note, specific details on the following topics can be found within the members' only section of our website. We encourage NYSFDA members to log in at the top right corner of the homepage. Not currently a member? Click here to learn more about joining NYSFDA.
---
Vaccination Mandate Going into Effect Monday, 12/27 in NYC (12.21.21)
A Vaccination Requirement for Workplaces in New York City will take effect Monday, December 27, 2021. Click here for details.
---
Governor Announces Statewide Mask Mandate (12.10.21)
This morning Governor Kathy Hochul announced masks will be required to be worn in all indoor public places unless businesses or venues implement a vaccine requirement. Click here for details.
---
Erie County Mask Mandate in Effect (11.23.21)
In response to the increase in positive COVID-19 cases, earlier this week Erie County Executive Mark Poloncarz announced that effective 6am Tuesday, November 23, staff, guests and patrons at all indoor public locations are required to wear a mask/face covering in Erie County. Click here for details.
---
COVID-19 Vaccination Updates (10.01.2021)
Following outreach from many of our members, NYSFDA has looked into two COVID-19-related issues. Click here for details on boosters and Excelsior Passes.
---
NYS Reaches 70% Vaccination Rate; Relaxes COVID Mandates (06.15.21)
Governor Cuomo announced that New York State has reached a 70% vaccination rate of all eligible residents - the highest in the nation. Upon reaching this milestone, all pandemic-related mandates will be relaxed effective immediately. Click here for details.
---
Updated Guidance for Religious and Funeral Services (06.08.21)
The State has released updated guidance for religious and funeral services. Click here for details.
---
A Message from the National Cemetery Administration (05.21.21)
The U.S. Department of Veterans Affairs' (VA) National Cemetery Administration (NCA) today it would lift all restrictions on gathering sizes at committal and memorial services in VA national cemeteries starting on Wednesday, May 26, 2021. For details and more information, please visit the NCA website or contact your local national cemetery. For a message from Calverton National Cemetery, click here.
---
Implementing CDC Recommendations in NYS (05.19.21)
The State has released guidance for implementing the CDC's revised recommendations for people fully vaccinated (effective Wednesday, May 19, 2021). Click here for details.
---
CDC Announces Revised Recommendations for Fully Vaccinated People (05.13.21)
Earlier today the Centers for Disease Control and Prevention (CDC) announced revised recommendations for people fully vaccinated. Click here for details.
---
FEMA Funeral Assistance Program Details (Updated 05.21.21)
FEMA released their final policy on providing financial assistance for funeral expenses for deaths related to COVID-19 in mid-March, and the hotline opened Monday, April 12, 2021.
Just released May 21, 2021: New FAQs for funeral directors. Click here for details.
---
CDC Updates Cleaning & Disinfecting Guidelines (04.05.21)
On April 5, 2021 the CDC updated their Cleaning and Disinfecting Your Facility guidelines. Click here for details.
---
New Domestic Travel Guidance (04.01.21)

On April 1, 2021, the New York State Department of Health (DOH) released Updated Interim Guidance for Quarantine Restrictions on Travelers Arriving in New York State. Click here for details.
---
Governor Extends Emergency Powers; Revises Approach (02.26.21)
Governor Cuomo extended the emergency powers provided to funeral service during the pandemic. Going forward, the Governor's office has revised their approach to the executive order extenders. Click here for specifics.
---
NYS DOH Releases Guidance for COVID-19 Vaccines to Funeral Service Professionals (01.11.21)
Following the December 21, 2020 release of the COVID Vaccine Guidance, the state's COVID vaccination scheduling process is fluid. The following is the latest information we've received regarding the state's chosen process, including the opening of Phase 1b on January 11, 2021. Click here for details.
---
Electronic Signature Clarification
In response to several member questions, we've provided clarification to the Electronic Signature Executive Order (as of August 12, 2020). For details on the Electronic Signature clarification, click here.
---
Additional COVID-19 Resources
There are a variety of resources provided by NYSFDA, local funeral services organizations, NYS government agencies, national organizations, and others. For a comprehensive list, please click here.
---
For archived information relating to the COVID-19 public health emergency, click here.
Please share information with NYSFDA & your peers. To submit information for consideration, please eail info@nysfda.org. As additional information directly relating to the funeral services industry becomes available we will be sure to share it with our members.