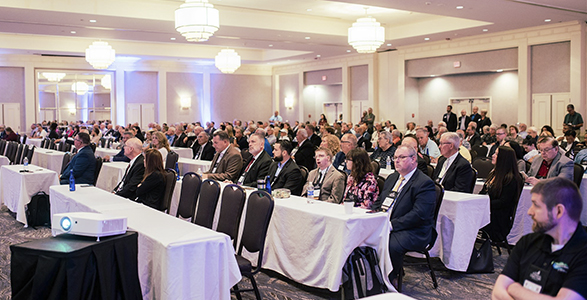 Industry professionals gathered in Saratoga Springs, NY for the NYSFDA Annual Convention August 23-25, 2021. Again this year, this Convention proved to be a great place to come together with colleagues to earn valuable CEUs, cultivate relationships, and celebrate accomplishments.
The event brought nearly 600 funeral directors, guests and exhibitors to the Greater Capital Region, held at the Saratoga Hilton and City Center.
John J. Kelly, owner/manager of Edward L. Kelly Funeral Home in Schroon Lake, was installed NYSFDA President. A New York State licensed funeral director for more than 50 years, Kelly will serve for the 2021-22 term.
Other officers installed at NYSFDA's annual meeting:
President-Elect: Robert J. Hogan, Quinn-Fogarty Funeral Home, Flushing
Treasurer: John O. D'Arienzo, D'Arienzo Funeral Home, Inc., Brooklyn
Secretary: Scott C. Hendrix, Whiter-Hendrix Funeral Home, Ilion
Immediate Past President: William J. Villanova, Frank E. Campbell - The Funeral Chapel, New York City
"This convention provides an excellent opportunity for funeral professionals to gain additional skills to better serve families and their communities, develop a stronger understanding of funeral service laws and best practices as well as build closer relationships with the caregiver colleagues they work with every day," said Michael Lanotte, Executive Director of the New York State Funeral Directors Association.
The convention also offered a variety of educational programs for attendees and a trade show for licensed funeral directors and their guests. More than 50 exhibiting companies secured booth space to showcase caskets, hearses and other funeral-related items.
Educational opportunities included topics relating to modern desairology, digital marketing and community engagement, decedent identification, NYS funeral law, and employee management and motivation.