NYSFDA is governed by a volunteer Board of Directors comprised of licensed funeral directors from small and large firms around New York State. NYSFDA Officers are outstanding practitioners of funeral directing who have demonstrated a commitment to upholding the mission and goals of the Association.
NYSFDA 2018/19 Officers
---

Jeffrey A. Jennings, CFSP
President
Jeffrey A. Jennings, CFSP, owner of Jennings Nulton & Mattle Funeral Home Inc. in Penfield and Harloff Funeral Home in East Rochester was installed President at the organization's annual meeting held on August 13, 2018 in Verona, NY.
Jeff is a native of Rome, NY. The youngest of eight children, Jeff is a 1984 graduate of Rome Catholic High School and 1986 graduate of SUNY Canton, with a degree in Mortuary Science.
After earning his funeral directors license in 1987, Jeff began serving families in the Rochester area in 1988.
Jeff is married to Robin (Boyce) Jennings. They have three daughters: Emily, Katelyn and Colleen.
The Jennings family belong to Assumption of Our Lady Church in Fairport, NY.
Jeff is a Past President of the Rochester Genesee Valley Funeral Directors Association, and a member of the New York State Funeral Directors Association, where he previously served as Secretary/Treasurer and as Region 2 Director for Western New York.
He is a member of the National Funeral Directors Association, through which he has earned the designation of Certified Funeral Service Practitioner (CFSP).
Jeff is also a member of The Genesee Conservation League and past secretary Fairport Volunteer Fire Department.
---
Richard J. Sullivan
President-Elect
Richard J. Sullivan, owner of Quigley-Sullivan Funeral Home in Cornwall-On-Hudson, was installed President-Elect at the organization's annual meeting held on August 13, 2018 in Verona, NY.
A New York State licensed funeral director since 1982, Rich has been a member of NYSFDA for 30+ years and has previously served as Region 7 Director for the Hudson Valley.
Rich is also past chairman of the NYS Tribute Foundation, a 501(c)(3) not-for-profit organization, established in 2003 out of a desire to unite the knowledge and resources of funeral service professionals throughout New York State.
Rich is a graduate of James I. O'Neill High School in Highland Falls, NY and Hudson Valley Community College in Troy, NY.
He is also a member of the National Funeral Directors Association and the Association of the United States Army.
Rich was also the secretary/treasurer of the Orange, Rockland and Sullivan Funeral Directors Association from 1989 - 2004.
Rich is married to JoAnne P. Sullivan, director of the Cemetery of the Highlands, Inc., and past president of the NYS Association of Cemeteries.
They are parishioners of St. Patrick's Church in Highland Mills, NY.
---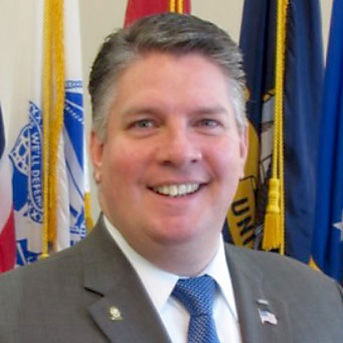 William J. Villanova
Secretary-Treasurer
William J. "Bill" Villanova, General Manager of Frank E. Campbell - The Funeral Chapel in New York, NY, was installed Secretary-Treasurer at the organization's annual meeting held on August 13, 2018 in Verona, NY.
Bill made a commitment to the funeral profession as a young man working at a local funeral home in his hometown of Port Chester. Since then, he has provided dignified and compassionate funeral services to families throughout the New York metropolitan area for the last three decades.
Active in his profession, Bill has previously served as a Region 7 Director for NYSFDA, and currently serves on the Association's Government Affairs; Task Force on Reforming Funeral Service Education; and Budget and Finance Committees. He was a previous member of the NYSFDA Continuing Education and Convention Education Task Force and past chair of the NYSFDA Nomination Committee. He has also served as past president of the Orange, Rockland and Sullivan Funeral Directors Association and is a past member of the Westchester Funeral Directors Association and Metropolitan Funeral Directors Association.
In the community at large, Bill is chairman of the Port Chester Zoning Board of Appeals and a former Rye Town Deputy Supervisor; past president, Order of the Sons of Italy; a Fourth Degree Knight of Columbus; a member of the King Street School PTA; a board member, Port Chester Youth Baseball; a board member, New Rochelle Lightning Hockey; event coordinator, NYC Veterans Day Parade; past president, Suffern Chamber of Commerce; past president/captain, Port Chester Fire Department.
Bill resides in Port Chester with his wife, Sandra and their children Gianna, William, Jr. and Nicholas.
---

Wesley A. "Andy" Powell, CFSP
Immediate Past President
Wesley A. Powell (Andy) was installed Immediate Past President at the organization's annual meeting held on August 13, 2018 in Verona, NY.
Andy is a lifelong resident of Amityville, a graduate of the Amityville Schools and SUNY Farmingdale where he studied Mortuary Science, earning his Associate Degree. In the 1980's he entered the family business, becoming a fifth generation funeral director at the Powell Funeral Home, Inc. working with his grandfather, C. Wesley Powell and his father, Wesley C. Powell; eventually becoming manager and Vice President of the firm.
In the community at large, Andy has been a referee in the Amityville Soccer League, a Little League Coach, Past President of the Amityville Lions Club, current member of the Amityville Kiwanis Club, Trustee of the Amityville Historical Society, the Bay Village Civic Association, Past Master of the Amityville Masonic Lodge #977, Trustee and Past President of the Amityville Cemetery Association and a former member of the Amityville Downtown Revitalization Committee.
He is a member of St. Paul's Lutheran Church in Amityville where he had the privilege of serving as President of the Church Council for several years. He was honored by the Amityville Rotary Club with the Frank B. Powell Leadership Award for Community Service and is also the proud recipient of the Dr. Martin Luther King, Jr. Leadership Award, presented by the Hollywood Gospel Baptist Cathedral.
Andy's involvement with his peers includes membership in the Nassau Suffolk Funeral Directors Association where he is a Past President and current Board Member and Chair of the Continuing Education Committee. He is also active in the NYSFDA, sitting on the Family Assistance Commission, Constitution and By Laws Committee, the Electronic Death Certificate Registration Committee, and Chairman of the NYSFDA Task Force on Reforming Funeral Service Education. He served previously as NYSFDA's Region 9 Representative.
---
Walter J. Kent
Continuing Past President
Walter J. Kent, owner of Walter J. Kent Funeral Home in Elmira, was installed NYSFDA Continuing Past President at the organization's annual meeting held on August 13, 2018 in Verona, NY.
The certified funeral celebrant and 1980 graduate of Simmons School of Mortuary Science is active in his profession, serving previously as a regional governor and as a regional director of NYSFDA; and currently is the Vice-Chair of Directors Choice Credit Union.
During his 2016-2017 year as NYSFDA President, Walt made engaging the "next generation" of funeral professionals one of his top priorities. The newly-formed NYSFDA Bridge Commission was developed to Build, Connect, Support and Elevate the next generation of funeral directors in New York State.
Walt is also a member and past president and treasurer of the Finger Lakes Funeral Directors Association (FLFDA), and a member of the National Funeral Directors Association.
Before founding his own funeral home in 2003, Walt worked for more than twenty years in funeral service.
In his community, Walt is a Board member of the Chemung County Chamber of Commerce, a Trustee and Finance Committee member of Blessed Sacrament Parish in Elmira, a former Board member with Meals on Wheels of Chemung County, and founded TLC Limo in 2011.
Walt, the proud grandfather of Harvey Emerson Kent, resides in Elmira with his wife of 33 years, Diane. His son, Tyler, also a NYS licensed funeral director who works with him, was appointed in 2017 to serve on the NYSFDA Bridge Commission. Tyler and his wife, Ellen, also call Elmira home.
---
NYSFDA Staff
Michael A. Lanotte
Executive Director
As NYSFDA's Executive Director, Mike oversees several distinct entities including: President, Funeral Director Support Services, Inc., which administers PrePlan, the Association's master trust; President, Directors Choice Credit Union; and President of the New York State Tribute Foundation, a charitable organization pursuing goals of charity, knowledge and education for both consumers and funeral directors. Mike previously served as Senior Vice President of Association Services at the New York Credit Union Association where he was responsible for compliance, community development, education and training, governance, governmental affairs, member services, the New York Credit Union Foundation, and legal and regulatory affairs. He has also served many roles at NYCUA including associate counsel in 1993 and general counsel in 1997. Mike is the past chairman of the Credit Union National Association (CUNA) State Issues Subcommittee and has served on CUNA's Supervisory Issues Working Group. Mike has also served on the American Association of Credit Union League's (AACUL) State Issues Committee and Regulatory Advocacy Committee, as well as on ACCUL's Model Credit Union Act Task Force, where he served as chairman. Prior to joining the Association, Mike received his Juris Doctorate degree from Albany Law School of Union University after graduating cum laude from Union College in Schenectady, NY.
---
Randy L. McCullough, CAE
Deputy Executive Director
Randy has been NYSFDA's Deputy Executive Director since 2003, having previously served as the Association's Director of Government Affairs. From 1988 - 1998, he was Senior Staff Member/Legislative and Committee Director for former New York State Assemblyman Paul D. Tonko (Amsterdam), who now represents the region as a Member of Congress in the U.S. House of Representatives (NY-21). McCullough graduated from Hartwick College (Oneonta, NY) with a B.A. in Political Science, earning Departmental Distinction honors. He also undertook graduate studies in International Affairs at The George Washington University (Washington, DC).
Randy serves on the Board of Trustees of Hartwick College, his alma mater, and is a member of the Board of Directors of the Public Affairs Council. The Council, based in Washington, DC, is the leading international association for public affairs professionals. He has also been a member of the board of directors for several other organizations, including the Empire State Society of Association Executives (ESSAE), for which he also served as Board Chair, the American Red Cross (Northeastern New York Chapter) and the Hartwick College Alumni Association, rising to serve on its Executive Committee. He also was President of Hartwick's Albany-area Alumni Chapter for several years.
---
Ivan Antonyuk | Director of Information Technology
Christopher Caradori | Directors Choice Credit Union Member Services Specialist
Karen Card | PrePlan Administrator
Vesta Caunitz | PrePlan Administrator
Amy Coonan | PrePlan Administrator
Kelly Deitz, CAE | Director of Foundation and Core Programs
Lisa Fox | PrePlan Administrator
Kim Greene | PrePlan Administrator
Scott Henderson | Government Affairs Assistant
Rana Huber | Director of Communications
Linda Isabel | Directors Choice Credit Union Member Specialist / Financial Associate
Michelle Lynch | Graphic Design Specialist
Mark Magram | Senior Software Developer
Allison Matheson | PrePlan Administrator
Kim McGuiness | Director of Finance & Administration
Dannielle Melendez | Engagement & Outreach Specialist
Michelle C. Mora | Member Services Specialist
Edward Munger, Jr. | Communications & Social Media Specialist
Cynthia Owens | Receptionist
Marianne Reid Schrom, CAE | Director of Engagement & Outreach
Melissa Sargalis | Assistant Director of Preneed Trust Services
Adam Schrom, CAE | Director of Preneed Trust Services
Cherie Tessier | Executive Assistant
Erin Townsend | PrePlan Administrator