Everyone wants to say goodbye to a loved one in their own, individual way.
A celebration of life is one way to make sure those farewell services have the personal touches that reflect the life of the individual, providing loved ones and close friends with an experience that helps them appreciate that person while also gaining closure.
If you're looking for celebration of life ideas that shake up the traditional funeral experience and ensure the service is both personal and meaningful, there are many options at your disposal, from in-service events to memorial displays, and even coordinated gestures embraced by everyone attending the service.
Here are seven such ideas to get you started.
SYMBOLIC RELEASE
A symbolic release is a common component of many funerals and celebrations of life, but there are ways to get creative and personalize that release.
Whether it's balloons, butterflies, doves, giant bubbles, wildflower seed or other ideas, choose a release that reflects the personality and spirit of the person being celebrated.
CUSTOM QUOTE BOARD
Whether your loved one was an avid reader, a lover of history or someone who just knew the value of a wise, poignant quote, a custom quote board is a visual display that pays tribute to the person through the quotations that mattered most to that individual. Or, if your loved one was known for great one-liners and quotes of their own, the quote board can be created using their memorable sayings.
PLANNED FLORAL ARRANGEMENTS
It's common to display flowers and plants sent by loved ones as a gesture of remembrance, but for someone who loved flowers and/or nature in life, planned floral arrangements may offer a greater contribution to a celebration of life.
These planned arrangements can feature a favorite flower, or even a favorite color to decorate the funeral or memorial space.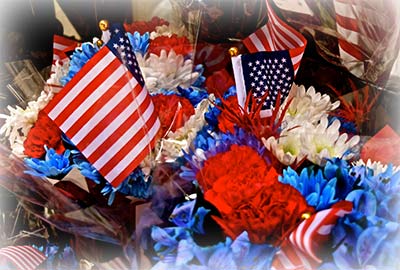 Consider other ways to use the arrangement to pay homage to the person's life, such as red, white and blue flowers to honor a veteran.
LIVE MUSICAL PERFORMANCE
For music lovers, the pre-recorded funeral soundtrack can be a little anticlimactic.
One solution is to bring in a live musical group that can play the kind of music the departed individual was known to love in life.
"While jazz, classical or other instrumental music can be a great fit for a funeral, don't be afraid to opt for more eclectic and/or contemporary music that lines up with the musical interests of your loved one," says Michael A. Lanotte, Executive Director & CEO of the New York State Funeral Directors Association.
"You can work with the hired musicians to create a personalized, meaningful soundtrack for the celebration of life."
CUSTOM DRESS CODE
If your loved one would have appreciated a break from the traditional trappings of a funeral, one option to freshen up the experience is to encourage an alternative dress code that honors your loved one in a unique way.
If they're a sports fan, consider asking funeral attendees to wear jerseys and other sportswear of that favorite team.
Or ask attendees to come dressed in your loved one's favorite color.
Another option is to encourage attire specific to an era or style that your loved one enjoyed or was known for.
There are a lot of options to choose from—just make sure the dress code is reflective of the life of the person being celebrated.
SPORTS LOVER'S SHRINE
Sports fans are serious about their love for their team, so why not let that passion become part of a celebration of life?
Creating a shrine to the individual's favorite team helps solidify their identity as a true fan of their team, and it allows you to display mementos, souvenirs and other relics illustrating their lifelong commitment to a team or teams.
CREATE A MEMORY TREE
A memory tree is a simple, interactive celebration of life display that encourages funeral guests to write down their favorite memories of a loved one and hang it on a decorative tree displayed at the funeral.
You can get creative with making the custom tree, whether it's spray-painting a stripped- down bush or tree branch, or purchasing an artificial decorative tree.
"Just make sure the memory tree is large enough to support all of the memories your guests will want to hang," Lanotte said.
"With many celebration of life ideas, the parties in charge of planning should make sure their proposed ideas can work with the number of guests they're expecting."
These celebration of life ideas are by no means exhaustive, but hopefully they can help spark some inspiration as you start making plans for a personalized memorial service that truly reflects the person being mourned.
---
Sources:
1. https://blog.funeralone.com/funeralone-products/life-tributes/personalized-funeral-ideas/