The Fourth of July is typically a fun-filled day off of work that often entails fireworks, barbecues and American Flags.
But mostly hidden from this holiday's promotion are thousands of people who died to make it happen – people for whom there is no national monument or memorial.
It isn't very common to take time to pay respects to the thousands who went to battle to see America turned from a group of colonies into one nation.
In New York State, one doesn't have to travel far to pay respects to those who risked their lives – or lost their lives – to see the Declaration of Independence enforced.
The Congressional Research Service (CRS) estimates between 184,000 and 250,000 people were involved in the American Revolutionary War.
From records of battles, the CRS estimates American battle losses at 4,435 people. Another 6,188 were wounded but survived.
The American Battlefield Trust (Battledields.org) says that approximately 17,000 died of disease, with between 8,000 and 12,000 dying as prisoners of war.
From what the American Battlefield Trust describes as "unreliable imperial data," British fighter losses are estimated at 24,000 including battlefield deaths, death by disease, those captured and those missing in action.
ANIMATED MAP OF AMERICAN REVOLUTION FROM CIVIL WAR TRUST
With losses in the thousands, it may be surprising to learn there are only 11 Revolutionary War soldiers buried at Arlington National Cemetery.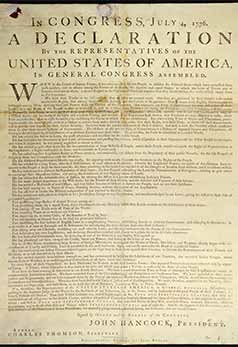 Those who weren't buried in unmarked graves on the battlefields were interred in local cemeteries – including private family burial grounds – throughout New York State.
Many are in New York State – where nearly one third of the battles took place.
There isn't one single source to go to and learn if you have an ancestor who fought in the Revolutionary War, much less if they are buried in New York State.
The information of many who served in the American Revolution has been recorded, but not for all. There are a few sources that might help someone learn if their ancestor was in the American Revolution:
PAYING RESPECTS TO FALLEN PATRIOTS
Researchers say roughly one-third of the Revolutionary War battles took place in New York State. Interested in walking the hallowed grounds where many died for American freedom? Here are some websites detailing many of these places you can visit:
---
Edward Munger Jr.
Communications & Social Media Specialist
NYS Funeral Directors Association


---
---