I wasn't far from where I was headed when I heard a popping sound that stood the hair up on the back of my neck.
I had to hit the brakes, put on the hazard light and move my way over to the tiny shoulder of the road.
It was a flat tire.
I got stranded with passengers another time, in the dark, when I was bringing a car home from another state. It was worse that time – the car wouldn't start at all and the highway was even busier.
We were all just waiting for a car to smash into us. I can still recall how relieved I felt when the tow trucks arrived.
They parked behind me and I felt safer with the visible flashing lights, believing it was less likely somebody would slam into the back of my car.
Now, I make it a priority to get in the other lane any time I see lights on the side of the road.
Some people don't bother, and that's why roadside workers are driving a casket throughout the United States.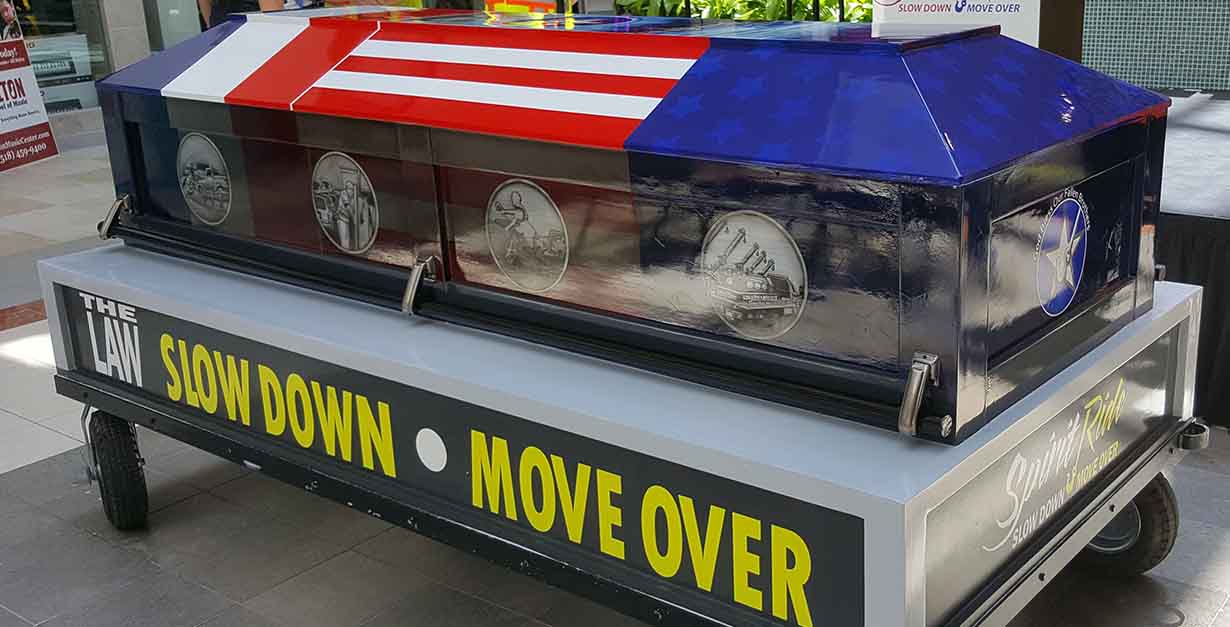 SPIRIT RIDE
Nothing makes the point about "death" more than a casket.
Tow trucks drivers participating in the Spirit Ride initiative are driving the red, white and blue coffin through more than 2,000 communities, hoping to get people's attention.
The colorful body-sized box represents the souls of all the roadway responders that have been killed while helping disabled motorists.
"The Spirit Ride is a wake-up call for all motorists to slow down and move over and remember that we all share the road," said Mike Sweeney, a traffic safety educator at AAA Hudson Valley, one of several speakers at a gathering around the casket.
Sweeney said people drive nicely around their own neighborhoods and then step on it once they're away from their homes.
Many motorists then assume the "me first" attitude.
"I'm asking you, today, to expand your neighborhood. We need to share the road," Sweeney said.
New York State Assemblyman John T. McDonald III told the group of media (and curious mall shoppers) that he's sponsoring a bill to allow tow truck drivers to add blue lights to their vehicles to make them more visible and reduce fatalities.
"The reality is, as this effort demonstrates, there are casualties," McDonald said.
Despite the heavy risk of killing somebody, New York State's Move Over Law "threatens" violators with a $100 ticket and a surcharge of up to $93.
Some fields, like military and police work, are hazardous in their very nature. I believe we should look at roadway responders in the same way – they're people who face death on a daily basis.
"These people are out every day risking their life to keep our roadways moving and to keep our roadways safe," Sweeney said.
"At the end of the day they all want to go home to their families. That's what Slow Down, Move Over is all about. It's about going home to your family."
The prevalence of these incidents – people getting hurt when they're out helping stranded motorists – is disappointing.
Take a look at this list of injuries and deaths Tow Truck Drivers and their family and friends faced over the past year:
A Year of Incidents that Injured or Killed Tow Truck Divers June 2016 – June 2017
June 2017 Two hospitalized after an SUV rear-ended a tow truck in northeast Harris County. Timothy and Lori Howell, the Tow Truck Driver and his wife, were transported to the Lyndon B. Johnson Hospital … Houston Chronicle, Texas
June 2017 A Tow Truck Driver was killed in a shooting Wednesday evening in the South Chicago neighborhood … Chicago Sun-Times, Illinois
May 2017 Tow Truck Driver Thomas Anthony Flayhart was struck and killed while preparing to tow a disabled vehicle … The Capital, MD
May 2017 Tow Truck Driver Baudelio Perez was killed after being struck by another car while loading a Cadillac that was on the shoulder … Fresno Bee, CA
April 2017 Tow Truck Driver falls to his death April 12 while trying to secure a tractor-trailer that overturned at the Boca Raton overpass, which has seen dozens of accidents in recent years … Sun Sentinel, FL
April 2017 Tow Truck Driver Trevor Armstrong taken to Rhode Island Hospital after three-car accident kills one … Providence Journal, RI
March 2017 Tow Truck Driver Macy Lee Alvey III was killed while assisting the driver of disabled pickup truck on Interstate 55 … Times-Picayune, NO
February 2017 "Nationwide, inattentive motorists kill a tow-truck driver every six days on average, a law-enforcement officer once a month, and 23 highway workers and five firefighters per year." The Toledo Blade, OH
December 2016 Tow Truck Driver Salvatore Brescia was killed as he was loading a disabled minivan onto his flatbed tow truck on Interstate 95 in Harrison … Associated Press, NY
November 2016 Tow Truck Driver Danny Ray Hand was struck and killed on Interstate 275 by a man driving drunk … Tampa Bay Times, FL
February 2015 Tow Truck Driver Michael Bower, was killed in February 2015 after his tow truck was hit by the passing big rig on US 50 … Daily Democrat, CA
October 2016 Tow Truck Driver James Homkey, of Canajoharie, was killed while responding to a disabled vehicle on the NYS Thruway ... CBS 6, NY
October 2016 Tow Truck Driver Troy E. McGuire was struck and killed by a drunk driver while loading vehicles onto his truck on Interstate 75 … Tampa Bay Times, FL
September 2016 Tow Truck Driver Mark Banks was loading a vehicle onto a tow truck on the Combs Mountain Parkway when the SUV hit and killed him … Associated Press, KY
August 2016 Tow Truck Driver David L. Duchnik was killed when a tractor-trailer veered into the crash scene in South Abington … The Times-Tribune, PA
August 2016 Tow Truck Driver KC Cantu was struck by a vehicle and killed on Interstate 27 as he adjusted a towed unit on the side of the road … Amarillo Globe-News, TX
June 2016 Tow Truck Driver Danny Haro, 58, was loading a disabled vehicle on the shoulder of Interstate 10 about 2:30 a.m. when he was struck and killed by a white box truck … Arizona Daily Star, AZ
---
Edward Munger Jr.
Communications & Social Media Specialist
NYS Funeral Directors Association


---