A hate crime task force was assembled to probe vandalism after dozens of headstones were toppled in Rochester.
The foul attack of an Upstate-New York cemetery followed similar vandalism at cemeteries in Missouri and Pennsylvania – leading to suspicion some kind of religion-based hatred was fueling the destruction.
Not long after the near-hysteria began, damage cited as a likely anti-Jewish hate crime was reported at a Washington Cemetery in Brooklyn.
As it turned out, that cemetery's condition had nothing to do with vandalism. Instead, it was blamed on soil erosion and "lack of maintenance."
And numerous threats called into Jewish centers throughout the country – suspected as part of the whole anti-Semitic hate crime spree – turned out to be the result of a jilted ex-boyfriend lashing out.
I always appreciate it when political leaders jump into the fray after news of something as sensitive as a hate crime – or, more rightly a "possible hate crime" – surfaces.
I appreciate it because it brings to light the important symbols final resting places represent in our society.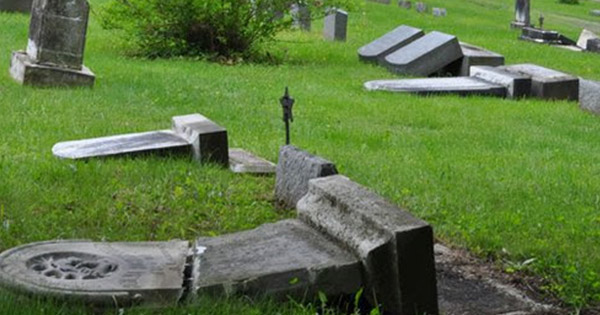 After all these years, though, it seems to me it's really rare for people to try to "hurt" members of a specific religion by attacking their cemetery.
People just do it because they have little respect for the dead. Some do it because they know people have respect for the dead and they want to hurt them.
Each time I hear about cemetery vandalism, I say my little "prayer" to Karma and tell myself things will come around to those who don't respect those who have gone before us.
Since the news is so rife with reports of cemetery vandalism and the possibility there's some widespread effort afoot to injure members of a specific faith community, I figured I'd compile a small list of the incidents of cemetery vandalism that have taken place throughout New York State over the past 10 years.
This list is in no way exhaustive – it required a NewsBank search using only two words: Cemetery and Vandalism.
It's my way of memorializing those whose final resting places were damaged senselessly, and also a way to remind folks that this doesn't just happen once in a while, it happens all the time.
As you'll see from the list, the final resting places of many vulnerable #Unliving Americans are attacked on a regular basis. Often, they're veterans of the Revolutionary War or Civil War.
In other instances, they're just people that struggled to get through life, to make something of themselves or to establish a life for their children. May they all rest in peace.
10 Years of Cemetery Vandalism
November 2016 | WATERFORD - A 19-year-old teen does $1,500 in damage to the upper lawn, reserved for future plots, at Waterford Rural Cemetery. Troy Record
July 2016 | OSWEGO – The top of a Civil War soldier's tombstone deliberately knocked off for the second time, a month after being repaired, at Fort Ontario State Historic Site. Syracuse Post-Standard
July 2015 | MENANDS – Vandals spray-painted an anti-gay slur and other graffiti on an historic mausoleum at Albany Rural Cemetery. Times Union
November 2015 | DEPAUVILLE – Between $3,000 and $5,000 in damage done to 15 headstones dating to the 1800s at Depauville Cemetery. Watertown Daily Times
October 2015 | PORTER -- More patrols established at Oakland Cemetery after a woman found her son's headstone painted with graffiti. Buffalo News
September 2015 | SOUTHPORT – Damage estimated in the hundreds of thousands after roughly 75 gravestones were vandalized in St. Peter and Paul's Cemetery. Troy Record
May 2014 | LOCKPORT – More than 30 flags on veterans' gravesites went missing at Cold Springs Cemetery. A deputy dispatched to investigate discovered a groundhog was the culprit. Malone Telegram
May 2014 | BATAVIA – Two urns, eight headstones and a trash can were overturned at Elmwood Cemetery in the third vandalism attack in a month. Daily News
January 2014 | TROY – Police receive report of damage to several tombstones in Oakwood Cemetery. Troy Record
October 2012 | WEST SENECA – The fence, benches, a sculpture and tables at the medication garden in Ebenezer Cemetery are among victims of vandalism attack. Buffalo News
September 2012 | ONEIDA – Two headstones were damaged with a golf cart during a 28-year-old man's vandalism spree. Observer-Dispatch
August 2012 | BROOKLYN – Damage is estimated at $100,000 after vandals smash several monuments and overturn dozens of headstones in historic Green-Wood Cemetery. New York Post
August 2012 | CAMILLUS – Eight headstones damaged in the 200-year-old Belle Isle Cemetery. Post-Standard
July 2012 | FELTS MILLS – A sledgehammer is used to destroy Revolutionary War veterans' grave markers and gasoline is poured on another burial site at Evergreen Cemetery. Carthage Republican Tribune
March 2012 | MECHANICVILLE – More than 109 headstones are toppled during a spate of vandalism at Hudson View Cemetery. The Saratogian
January 2012 | LANSINGBURGH – Police told two headstones are kicked over in Lansingburgh Cemetery. Troy Record
August 2011 | SOMERSET -- Roughly $15,000 in damage reported at West Somerset Cemetery. Buffalo News
September 2011 | MASSENA – More than $8,000 in damage is perpetrated when as many as 70 headstones dating to the 1800s are tipped over in Pine Grove Cemetery. Watertown Daily Times
April 2011 | SCHENECTADY – Roughly 20 headstones were overturned at Zion Lutheran Cemetery, along with several trash cans. Daily Gazette
November 2010 | BUFFALO – As many as 30 headstones, some dating back to the 1800s, are toppled at Concordia Cemetery. Buffalo News
November 2010 | TROY – Police report several headstones knocked over at Mount Ida Cemetery. Troy Record
September 2010 | TROY – The theft of a bronze vase decorating the gravesite of a loved one at St. Mary's Cemetery is reported to police. Troy Record
August 2010 | EAST FARMINGDALE – The remains of a person were taken from one of three mausoleums that were vandalized in St. Charles Cemetery; $30,000 reward offered for return of remains. Buffalo News
May 2010 | SCHODACK – Two gravestones are toppled – one broken in half and the other carved up with a bottle opener, at Mountain View Cemetery. Troy Record
August 2009 | AVERILL PARK – Roughly $1,400 in damage is reported after 13 monuments are toppled at Sand Lake Union Cemetery. Troy Record
July 2009 | MOIRA – About 20 gravesites, most dating back to the late-1800s, are damaged in a vandalism spree at North Dickinson Cemetery. Malone Telegram
March 2009 | NEW HARTFORD – The gravestones of several Civil War veterans are vandalized at the Lasher Cemetery. Observer-Dispatch
January 2009 | BUFFALO – Six headstones were spray-painted with graffiti at Greenwood Cemetery. Buffalo News
September 2008 | MARCY – Damage to two headstones brings the total to 14 needing repairs following multiple spates of vandalism at Evergreen Cemetery. Observer-Dispatch
August 2007 | DEFREESTVILLE – Owners of several 100-year-old cemetery plots are informed they are responsible for repairing damage to headstones and monuments kicked over during a vandalism spree leaving an estimated $3,300 in damage. Times Union
May 2007 | MORRISTOWN – Six stones are kicked over at Pine Hill Cemetery – about a month after another 110 gravestones and monuments were toppled. Damage estimated at $20,000. The Journal
---
Edward Munger Jr.
Communications & Social Media Specialist
NYS Funeral Directors Association


---