It's surprising to hear that so many American Veterans have passed away without the honor of a military funeral.
The issue dates back decades. Funeral homes willingly performed creation services for late veterans and the ashes were left there – abandoned.
Who knows why. The family didn't want to pay for a funeral service, there was no family left, I'm sure the reasons are as plentiful as the number of missed honors.
Ever since the year 2000, federal law has required that all veterans, upon request of family, be given a military honors funeral that includes folding the American Flag and playing Taps – at a minimum.
There isn't an actual count of how many veterans are abandoned before funeral honors - that's part of the problem.
The Patriot Guard Riders of NY are trying to change this.
Patriot Guard representative Bill Schaaf said in New York State, he estimates the number of urns full of veterans' ashes to be "in the thousands."
What's most bothersome is the fact that there's few excuses for these remains to be sitting around in dark closets – they belong in National Cemeteries and Military Honors Funerals are free of charge.
Schaaf said family members aren't necessarily to blame – they may not know their loved one was in the military. It's not uncommon for veterans to return home and avoid talking about their military service.
That reminded me of the story about Jeffrey S. Ogno, a veteran living in rural New York State who wound up having a massive turnout for his funeral thanks to other veterans who did a bit of research.
The man's wife and children had few details about his military service. As it turned out, this veteran served three tours in the Vietnam War and nobody knew about it.
It wasn't until research from the Disabled American Veterans revealed Staff Sgt. Ogno earned at least 18 medals.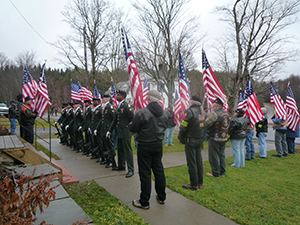 These included three Purple Hearts – the medals soldiers get when they're injured in battle.
The Air Medic also earned 12 Air Medals for meritorious service and individual acts of heroism. Ogno had so much shrapnel in his body he set off metal detectors, his family said.
An Army Commendation Medal and three Army Good Conduct Medals were others.
Ogno died of lung cancer from exposure to Agent Orange. Fortunately, his service record was found and the community was able to recognize him for his service.
It makes me wonder how many heroes haven't been given the proper recognition for their sacrifice. The ashes of "thousands" of American veterans are sitting in storage in New York State. I don't want to look up the numbers for the rest of the country.
Schaaf, a Vietnam veteran, has participated in more than 200 veteran funeral ceremonies. He and his fellow Patriot Guard Riders are ready and available to chaperone the remains of veterans and military service personnel killed in action. Their services are free of charge to families that request it.
The Patriot Guard Riders got their start after factions started using veteran funerals as a means to broadcast their point of view. This doesn't happen often in New York State, I think it's because so many New Yorkers have an appreciation for military service.
So while they're ready and willing to escort veterans to their final resting place, the Patriot Guard Riders have another initiative in place – the Veteran Recovery Program. It's aimed at gathering and properly honoring veterans found in urns at funeral homes and other places.
It's only been a few years since New York State law made it possible for funeral homes to share information with veteran organizations without fear of lawsuits.
The New York State Funeral Directors Association worked in partnership with the NYS Veteran Recovery Program / Patriot Guard Riders to successfully shepherd a bill through the State Legislature to facilitate the interment of unclaimed veterans' cremains.
This law established a much needed framework to allow funeral directors to determine whether cremated remains in their possession are those of a veteran, and, at their option, may enlist the assistance of veterans' service organizations, like Schaaf's.
I believe it won't be too long before New Yorkers can rest easy knowing we've done what we could to give all our veterans the respect of Military Funeral Honors.
---
Ed Munger
Communications & Social Media Specialist
NYS Funeral Directors Association


---