People gather, they hold a ceremony, and then they meet up to talk about the ceremony and its focus – the loved one who has died.
It's a simplified description of a funeral, but a useful one when thinking about the space needed for a funeral to take place.
The architectural firm Hofman-Dujardin of the Netherlands recently announced renderings of a new design of a "Funeral Centre" for modern times.
It's a design that requires only three rooms.
It's refreshing, for me, to see new thought about the location of funeral services – even if it comes from the Netherlands, more than 3,000 miles away.
Under this architectural concept, the thought is about how to make sure that guests attending funerals are comfortable.
It's important to get people to attend funerals. Guests help grieving friends and family members face their loss.
They ease the strain of grief by offering a friendly, familiar face during a terrible time.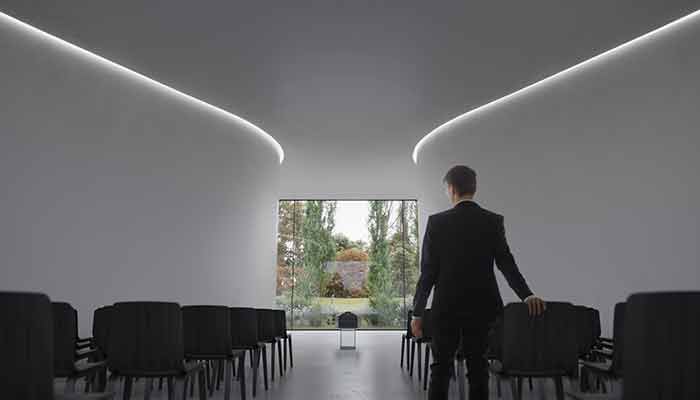 Funeral gatherings also help re-connect individuals who share a common bond – their friendship or acquaintance with the deceased.
The Hofman-Dujardin Funeral Centre's design highlights the value of funeral guests, and aims to provide a comfortable and fulfilling experience.
Images provided by the design firm display a bright environment with plenty of natural light and views of nature.
And the entire facility has one focal point – the place where the casket would sit as guests remember their loved one.
One goal of the new design, according to architect Michiel Hofman, is to ward off uneasy feelings people can get when they go to a funeral.
"The lack of places for worthy send offs results in unease feelings during crucial moments in our lives. Naturally following our design philosophy Shaping Intuition® focusing on the intuitive values of human beings, we designed a Funeral Centre with tries to break this discomfort. The design combines timeless qualities with elements of our modern ways of life," Hofman said in a news release.
Many of today's funeral homes are longstanding fixtures in their communities – and few in the profession are looking to construct an entirely new facility.
But those considering upgrades or some modernizing might find the input and ideas of these architects useful.
The design itself envisions three rooms, each which caters to three primary moments of a funeral: A gathering of friends and family; a ceremony of remembrance and a moment of social encounter.
From what I've seen throughout the years, there are two parts to a funeral home as it relates to a funeral: there's the entrance and then there's the place where casket is – where you find close relatives waiting to greet those attending the service.
There aren't any other designated spots or activities that I'm aware of.
After they arrive, people basically gravitate towards somebody they know.
They wander over to the display of photographs or the video playing memories of the deceased, and then find a seat to engage in some quiet reflection until it's not too early to depart.
Many times I've been to a funeral, the video or photo display is in a difficult spot.
On more than one occasion, I've seen a table situated on the side of the chapel not far from where the casket was.
I'd always be in the way of people passing by after paying their respects, and it made me uncomfortable.
And it made it difficult to really take in all the information I could glean from a photograph, because I'd ultimately want to hurry up and move on.
The new design ideas in the Hofman-Dujardin Funeral Centre put the video and memory viewing in its own space.
Renderings make it appear as though one could remark about one photo or another without whispering for fear of disturbing someone at the kneeler paying their respects.
Hofman-Dujardin describes the memory wall room as forming "a lively collage celebrating their life."
The wall itself allows for the creation of a "sublime, shared moment of collectively reliving stories," the company said in its news release.
The ceremony itself as envisioned by the architects is held in another room which put the deceased in the center, with a background of nature views visible from large windows.
The shape of the room "implies as flow back towards nature, closing the circle of life."
Then there is a social room – again in its own, separate space – where people can gather and talk.
With wooden walls and round serving tables, it's described as a "warm and comfortable atmosphere."
Funeral homes themselves are necessary places in today's society, so it's nice to see that those who design buildings are putting thought into what the funeral homes of the future could look like.
---
Edward Munger Jr.
Communications & Social Media Specialist
NYS Funeral Directors Association


---