ALBANY, NY (August 24, 2017) -- Jeffrey A. Jennings, CFSP, owner of Jennings Nulton & Mattle Funeral Home, Inc., in Penfield and Harloff Funeral Home in East Rochester, was installed President-Elect of the New York State Funeral Directors Association (NYSFDA) at the organization's annual convention which concluded on August 23, 2017, in Saratoga Springs, NY.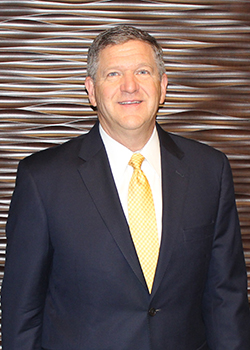 He will serve for the 2017-2018 term.
Jeff is a past president of the Rochester-Genesee Valley Funeral Directors Association, served as Region 2 Director for Western New York for NYSFDA.
He is also a member of the National Funeral Directors Association, through which he has earned the designation of Certified Funeral Service Practitioner (CFSP).
Jeff is a member of the Genesee Conservation League and past secretary Fairport Volunteer Fire Department. Jeff is married to Robin (Boyce) Jennings. They have three daughters, Emily, Katelyn and Colleen.
The Jennings family belongs to Assumption of Our Lady Church in Fairport, NY.
Founded in 1889, NYSFDA's mission is to promote the highest standards of funeral service to the public and to enhance the environment in which its members operate. More than 900 member firms and 3300 licensed funeral directors who operate across the state belong to the New York State Funeral Directors Association. In addition to maintaining a website at www.nysfda.org, NYSFDA also publishes brochures and information which educate and inform consumers about end-of-life issues.

-30-
---