ALBANY, NY (August 24, 2017) - Walter J. Kent, owner of the Walter J. Kent Funeral Home in Elmira, was installed as Immediate Past President of the New York State Funeral Directors Association, Inc. (NYSFDA) at the organization's annual convention which concluded on August 23, 2017, in Saratoga Springs, NY.
A New York State licensed funeral director since 1981 and a certified funeral celebrant, Walt will serve for the 2017-2018 term.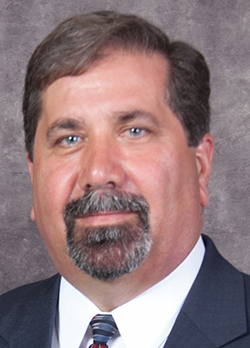 "I've been very fortunate to be part of a great leadership team who serve our profession well," said Walt.
The NYS licensed funeral director traveled back and forth between the State Capitol and Elmira while serving as the association's president.
During his 2016-2017 year as NYSFDA President, Walt has made engaging the "next generation" of funeral professionals one of his top priorities.
The newly-formed NYSFDA Bridge Commission has been developed to Build, Connect, Support and Elevate the next generation of funeral directors in New York State.
Walt said late-night phone calls from distraught family members didn't stop during his travels as President - but his dedicated staff, including his NYS licensed funeral director son, Tyler, stepped up to ensure that families were well-taken care of.
The 1980 graduate of Simmons School of Mortuary Science is active in his profession, serving previously as a regional governor and as a regional director of NYSFDA; and currently is the Vice-Chair of Directors Choice Credit Union.
Walt is also a member and past president and treasurer of the Finger Lakes Funeral Directors Association (FLFDA), and a member of the National Funeral Directors Association.
Before founding his own funeral home in 2003, he worked for more than twenty years in funeral service.
In his community, Walt is a Board member of the Chemung County Chamber of Commerce, a Trustee and Finance Committee member of Blessed Sacrament Parish in Elmira, a former Board member with Meals on Wheels of Chemung County, and founded TLC Limo in 2011.
Walt resides in Elmira with his wife of 32 years, Diane. His son, Tyler, was appointed to the NYSFDA Bridge Commission in 2017. Tyler and his wife, Ellen, also call Elmira home.
Founded in 1889, NYSFDA's mission is to promote the highest standards of funeral service to the public and to enhance the environment in which its members operate. More than 900 member firms and 3300 licensed funeral directors who operate across the state belong to the New York State Funeral Directors Association. In addition to maintaining a website at www.nysfda.org, NYSFDA also publishes brochures and information which educate and inform consumers about end-of-life issues.

-30-
---
Please Subscribe to the NYSFDA YouTube Channel!