Former New York State Funeral Directors Association President Scott B. Anthony, CFSP, CCO, is engaged in a campaign to serve as Secretary of the National Funeral Directors Association. Scott Anthony CFSP, CCO
Co-owner of Anthony Funeral & Cremation Chapels in Rochester, Anthony is a longtime member of the NYSFDA - considered one of the largest state-level funeral director associations in the nation.
He has volunteered his time in several positions within groups aimed at improving the profession.
Anthony currently serves as the 2013-15 at-large representative on the NFDA Executive Board which follows service as a New York representative on NFDA's Policy Board and membership on its Advocacy and Pursuit of Excellence committees.
He's also served as board member and president of the Funeral Service Foundation and he's held leadership positions at the Rochester-Genesee Funeral Directors Association in Upstate New York.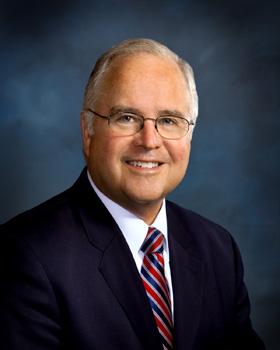 He's done so while his family funeral homes served about 500 families each year.
Despite the commitment of time, Anthony said playing a role in associations is essential to understanding them.
"I just saw value in networking with others, understanding how they run businesses, what their needs are. It's something I think I was attracted to and that just kind of grew," he said.
Anthony's newest goal is the seat as Secretary of the national organization that represents roughly 20,000 funeral directors.
According to NFDA's bylaws, the Secretary is charged with ensuring all meeting notices are posted and to record proceedings during meetings of the House of Delegates, Policy Board, and Executive Board.
The Secretary is also responsible for maintaining reports and statements and other documents that have to be kept and filed and to review and process applications for members in the NFDA.
The Secretary is also charged with receiving and distributing or publishing amendments, resolutions and other forms of NFDA business pursuant to the organization's constitution and bylaws.
The NFDA advocates on behalf of its members and focuses on topics they face including federal regulations enforced by the Occupational Safety and Health Administration; veterans' funerals and burial benefits, environmental safety and health, health insurance, small businesses and taxes and other issues.
Secretary of NFDA is a position the Upstate New York funeral director sees as another way to help those working in a meaningful profession he refers to as a "calling."
"I find a commonality with folks that have a heart for serving because I think that's truly my nature," Anthony said.
Anthony's work with funeral service associations spans several decades, including roughly 18 years as a member of the NYSFDA.
These meetings of like-minded professionals have helped Anthony hone his knowledge of the field both in New York and nationwide.
"I'm getting a flavor of how other states and how other regions memorialize their loved ones and how the funeral directors work with families," Anthony said.
Funeral firm practices, regulations, vary by state
There is a long list of differences among the states when it comes to funeral service, Anthony said. "Each state has its own issues, each allows certain things."
In many states, food and beverages are commonplace at funeral ceremonies, while neither are allowed in New York State funeral homes.
In some states, funeral directors can own cemeteries, crematories, catering centers and flower shops – in other states they can't.
Knowledge of these variations, Anthony said, is an essential prerequisite for service as an officer on the board of the National Funeral Directors Association.
"These kinds of things are unique to each state. The national organization needs to be sensitive to everybody."
Membership on the NFDA's Executive Board, Anthony said, has broadened his understanding of the field.
This awareness and staff at NFDA, which Anthony describes as "first rate," makes the association an important influence in the livelihood of funeral directors.
"It's an organization that's got a fairly consistent staff base and people that really are there for more than just a job. They believe in funeral service, they believe in funeral directing," Anthony said.
Though society is in a constant state of change, one of the primary dynamics facing the profession of funeral directing is no mystery – cremation. It's gradually replacing burial as a preferred means of final disposition.
Consumer preferences guiding funeral dynamics
To Anthony, this development signals the need for funeral directors to adjust.
"More and more, the majority of work we do will be where, perhaps, the body is not going to be part of the ceremony. It's our role as funeral home owners to teach and show value to families so they can get what they want."
Anthony said he does not see the migration away from burial as a direction away from funerals altogether.
"I think people are still going to want some celebration, some memorialization."
"When there's a death people want to get together and share stories … talk about their loved ones. They need a place to do that. They need a professional to guide them through that," he said.
The change in thinking about final services for loved ones means funeral directors have to strive to ensure that their abilities and services remain relevant to people's lives, he said.
"It takes more work now. We can't assume that people are just going to come to us because we're here."
Despite these changes, Anthony says families often acknowledge the important role funeral directors play in their lives.
"People want to show their appreciation. Families are coming to us because we provide a service that they value."
Anthony, 63, is also a family man. He and his wife Debbie have two adult daughters, Lisa and Sara.
He is co-owner of Anthony Funeral & Cremation Chapels in Rochester, New York.
---
Ed Munger
Communications & Social Media Specialist
NYS Funeral Directors Association


---