By early May of 2015, James Barnhart is preparing to leave his hometown in Upstate New York for two months. It would be the final step in his career as a funeral director.
After working 51 years straight, exactly what a 60-day vacation might mean wasn't yet defined.
"I've never been away that long," said Barnhart, who expects to be playing golf when he gets to Myrtle Beach with his wife, Carol, who handled administrative work in the C.H. Landers Funeral Home office for 39 years.
Retirement could have come earlier for Barnhart, 70, but the survival of the funeral home he dedicated a half-century of his life to was more important than rest and relaxation.
He spent more than a decade on his own, helping 95 families a year say goodbye to their loved ones. During that time, Barnhart held out to find the person he felt comfortable handing his life's work to.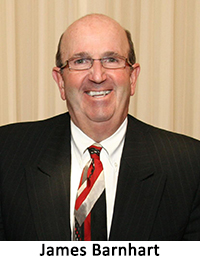 "Good help in the profession today is getting very difficult to find. There aren't many young people entering the field that really want to make a difference," Barnhart said.
He finally found two local residents who fit – then spent about 18 months easing himself out of the business once he felt comfortable.
He's faced a half-century of heavy lifting – and two disastrous floods that shut down the business – but there's one thing Barnhart said he won't miss: "The telephone at 4 o'clock in the morning."
"This has been a journey of love. I've loved every minute." Barnhart said.
He said if he were 20 years old again, he'd jump at the chance to do it all over again "in a heartbeat."
"It's a ministry, it's not just a job and that's what I said to the young people that worked with me. You deal with people the way you would hope somebody would deal with your family. That has been my business philosophy my entire life."
Since earlier days of guiding 95 families annually, the funeral home northeast of Binghamton has grown to serving 175 families each year – in a community of about 6,000 people.
Over the past 20 years or so, funeral directors in neighboring communities retired or passed on, and the C.H. Landers Funeral Home picked up the slack.
"It's just not money. You have a ministry to get them back from grieving to living. Hopefully, we've done a good job at it."
Despite all the years, leaving the job, Barnhart said, "never entered my mind." But now, Barnhart said his mind is willing but his body has been through enough at this point – and people are "not getting any smaller."
"I can't do the heavy lifting anymore," he said.
CAMEL'S BACK
Barnhart's tight-knit community of Sidney, NY – situated along the shores of the Susquehanna River – was among several Northeast municipalities to endure historic floods in 2006. Major flooding wasn't a regular occurrence back then – the funeral home was among hundreds of others without flood insurance and the facility sustained about $400,000 in damages.
Up to five feet of floodwater shut down operations – but only for three weeks. Barnhart recalled being in North Carolina at the time, celebrating a friend's 40th anniversary, when he got word of the flood over the phone. He couldn't make it back to New York immediately – major transportation routes were shut down.
Remarkable to Barnhart wasn't he mess the returned to – it was the team of 20 friends and members of the community working in the muddied funeral home. He remembers dragging out 6,600 yards of carpeting and tearing out soggy wallpaper that adorned the funeral home's walls for decades.
As it turned out, the C.H. Landers Funeral Home – right on Main Street – was one of the luckier structures in Sidney, despite the fact that it was flooded again five years later during visits from Hurricane Irene and Tropical Storm Lee.
After two floods in less than 10 years, the neighborhood lost dozens of buildings – not the C.H. Landers Funeral Home.
"We're losing probably 70 homes," Barnhart said of his community.
The C.H. Landers Funeral Home was among several recipients of a post-flood financial assistance effort created by NYSFDA's Board of Directors.
Flood recovery is strenuous work – and so is the administration involved in trying to get help – work Barnhart said took its toll on him and his wife.
The U.S. Small Business Administration's help process is seen by some as a detailed, bureaucratic challenge. It was a bit worse for the Barnharts – the SBA lost their application paperwork.
"They lost the documents three times. Three-hundred and thirty pages."
Hurricane Irene's lashing caused about $100,000 in damage – this time the funeral home had flood insurance, a requirement to get flood damage assistance after the 2006 flood.
Barnhart found a way to continue his work – he rented a nearby church building for calling hours and funerals – it helped the church too, which struggled to maintain adequate funding.
Despite the toil that followed disasters – and phone calls at 4 o'clock in the morning – Barnhart wasn't kidding when he said retiring hadn't crossed his mind.
Work to recover in a short amount of time led to the C.H. Landers Funeral Home being recognized as the Sidney Chamber of Commerce's Business of the Years award recipient in the summer of 2011 – just a couple months before the mighty Susquehanna River swallowed the village for a second time as Hurricane Irene swept through the Northeast.
A PLACE FOR THE COMMUNITY
Barnhart wanted to find a person and/or new owner that would carry on his philosophy of care for family and community.
He recalls his first discussion with funeral director Jeff Bagley, a Sidney native who joined the firm in 1997 and has since taken over the business.
It explains a lot about Barnhart's concern for maintaining what he'd developed during five decades of work with the community.
"I called him and I said I'm looking for an associate. I'm not looking for a funeral director."
That was Barnhart's way of ensuring the work done at the C.H. Landers Funeral Home didn't change.
"I'm very confident that he will do fine. He will carry it on, the professionalism will be there, and people love him," Barnhart said.
When he ultimately turned over the keys to his life's work, Barnhart planned his two-month vacation – that was a suggestion from a friend.
"I'm a believer that they need to run it their way and I need to be out so they can," Barnhart said.