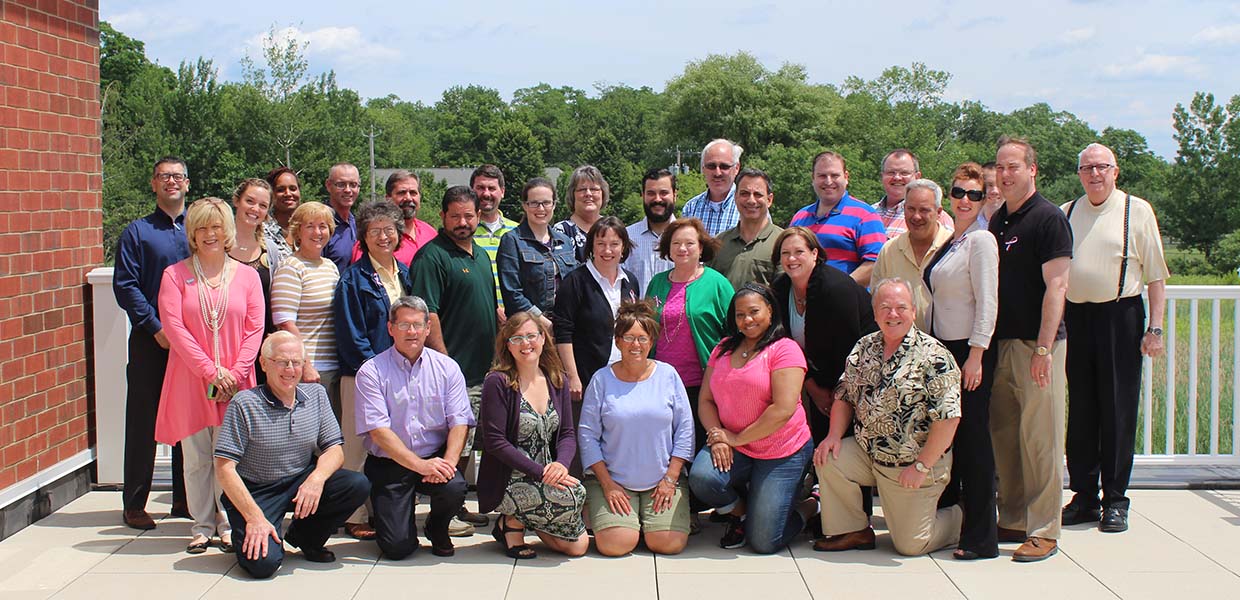 ALBANY, NY (JUNE 30, 2015) — Thirty people representing a diverse group from throughout the northeast and Canada recently completed a three-day program focused on helping family and friends address the intense grief that follows the death of a loved one.
Held at the Albany headquarters of the New York State Funeral Directors Association (NYSFDA), the intensive program featured discussion on concepts including grief, meeting with families and providing wholesome memorial services for a growing segment of American society – those unaffiliated with formal faith communities.
In attendance were funeral directors, clergy, wellness consultants and others hailing from places including New Jersey, Pennsylvania, Ohio, and throughout New York State.
The 2015 program marks the fifth time the NYSFDA hosted Certified Celebrant Training, which teaches participants to weave into funeral services the thoughts and stories about the deceased. Drawn from meeting with family members, this important step provides the bereaved a way to be engaged in crafting a meaningful memorial.
According to NYSFDA secretary/treasurer, Walter J. Kent, of Elmira, NY, "As a longtime funeral director, I have been asked more frequently to secure a person to officiate a funeral or have been asked myself to officiate at a funeral, for someone without a faith affiliation."
"Over the years, I've heard thousands of services, good and bad. We were provided an intense three-day training after which all participants had to create a custom service and present it to the class," Kent said.
"I was amazed at the quality of the mock services presented. Some of the most personalized, emotional and well thought-out memorials I have ever heard. What a valuable tool for all the participants."
After the training, funeral director Mary King, of Granville, NY, said embracing In-Sight Institute themes can give funeral officiants an alternative to standard funeral services.
"It gives you that leeway to make it more personal," King said.
Sister Maria Lopez, who works with Hospice in Kingston, NY, said the program provides insights helpful for those looking to help family and friends take steps in grief starting with the funeral.
"Essentially, we're meeting the needs of the bereaved, that's what matters," Lopez said.
"More and more funeral directors and chaplains are being asked to perform services with no religion. This is a way to make the service meaningful and personal for the families," said Kelly Deitz, CAE, Director of Foundation and Core Programs at the NYSFDA.
"Over the years Celebrant Training has been gaining popularity. June 2015 was the fifth time the New York State Funeral Directors (NYSFDA) has sponsored the training. Registration has increased each time from 17 people up to 30 people which is considered a full class. NYSFDA will continue to sponsor trainings in the future, with the next training scheduled for June 2017," Deitz said.
---
2015 Celebrant Graduates
(Pictured above)
Rev. Jack Bradley
James Brady
Frank Camardo
Nancy Castellucci
Murry Conway
Nick Farenga
Stephen Fournier
Cheryl Gayle
Jan Glende
Meghan Hagenbach
Paul Hammerl
Anna Hammerl
Laura Hans
Sabrina Joynes
Marty Karpel
Michael Kelly
Walter J. Kent
Mary King
Rev. David King
Danielle Kraft
Sister Maria Lopez
Wesley Mast
Shari Paige-Rich
Peter Russell
Jasmine Tanguay
Mark Thompson
Mary Tighe
Carl Trainor
Chris Tringali
Thomas Washock
---