The late Alvin E. Allen woke up each morning to feed the beef cattle on his family farm before heading off to work his day job at another farm. He'd return home from work each day and again care for the family farm's animals.
Livestock and other residents of the family farm were an important part of Allen's life – so funeral director Norman Waterman had no qualms when family members asked if they could bring Whalen to the funeral home for the farmer's wake.
Family members and neighbors gathered some mobile fencing and trucked Whalen – a 1,000 pound Hereford bull – into town.
They situated the bovine on the front lawn of the funeral home for Mr. Allen's calling hours – along with a small cage with a half-dozen of his prized chickens.
When people drive by the Victorian mansion and see something out of the ordinary, they're viewing an important part of the life of someone who has died.


This Home is Yours
Alvin Allen's widow Marilyn Allen told SympathyNotes that Whalen's attendance stemmed from a meeting Waterman held with family members where he told them "from this moment on, this home is yours to do as you would like to do."
That offer sparked thoughts about a day years back when one of their cows had a baby in the middle of a chilling cold winter.
The young cow was shivering, Marilyn Allen said, and her daughter-in-law and granddaughter insisted that her son bring it inside the house and put it in the breezeway.
"They slept with it all night, covered with towels," she said.
All shared a kinship with the family farm's animals, so when Waterman described his funeral home as their home, Allen's daughter and daughter-in-law looked at one another.
Then Marilyn Allen said she looked at her son and they both knew what the girls were thinking.
Marilyn's son, Doug, told the ladies they couldn't take a baby cow away from its mother without causing a ruckus, so if they had to bring an animal to their dad's funeral it would have to be a bull.
He made arrangements with the help of a neighbor and they secured fencing and a trailer to make it happen.
"They were all excited. They, of course, had to call Norm right way and see if it was OK. He said `sure enough,'" Marilyn Allen said.
They planned to situate a big tarp beneath the massive bovine, but Waterman said not to worry about it, Marilyn Allen said.
Alvin Allen would spend all the free time he could spare going out to feed and care for Whalen and the other animals until the Parkinson's disease he battled made it impossible.
"That was my husband's pride and joy. As long as he could go, he'd always go out. It got so he couldn't do it … we have continued to do it. That's why they said Dad needs his animals there with him. He loved his animals," Marilyn Allen said.
Including important elements of Allen's life transformed the funeral home into a more familiar place for guests and family.
"A lot of friends said it was like when they opened the door and walked in, it was like they were coming into our home," Marilyn Allen said.
"People were visiting and some were shedding tears then they were fine. Everything was like it would be if you were home."
"They still talk about it," she said.


Special Trips
Waterman is creating a new tradition with elements of funeral services that families are starting to ask for because they heard about it from another family.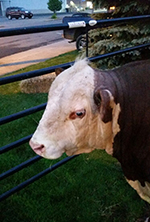 Most of the time, he doesn't bring the hearse directly to the cemetery after the funeral.
Instead, he brings the hearse and motorcade for one final trip to the loved one's home.
"On the way to his resting place, Norm took us past the house and stopped," Marilyn Allen said.
The family's prized herd of Hereford beef cattle graze in a fenced pasture up the road from their home – so the funeral motorcade made a stop there as well.
"He couldn't do more for us, I'll tell you the family is so, so pleased," Marilyn Allen said.
A local barber worked until he was 91 years old, and when he died at 96, Waterman said the Newark Police Department helped out by blocked off the main roadway so the entire funeral procession could travel through town and in front of the man's longtime workplace.
Waterman said he stopped, got out of the hearse and placed a big bouquet of flowers in front of the barber shop.
"When I looked back and saw the son with tears in his eyes because I did that, it was worth every second," he said.
Waterman didn't know anybody in the city of Newark, an Upstate New York community in Wayne County just north of the Finger Lakes.
He attributes all his knowledge to his mentor, Funeral Director Thomas E. Burger of Hilton, NY.
When he first arrived in 1994, Waterman began making changes – including the installation of a flagpole with a stone dedicated to the U.S. Armed Forces.
Now, services for veterans include flying the flag of their branch of service on the flagpole.
Waterman said it's something simple, but family members often stand by the flagpole and take pictures in memory of their loved one and their service to their country.


What'll Be There Next?
Waterman believes the townsfolk peer over at the funeral home every so often, wondering what they might see there.
The 21-year funeral director, of Newark, learns important aspects of loved ones' lives from family members during meetings he conducts before any formal "arrangements" take place.
He handled funeral services for a man who trained horses at the Finger Lakes Gaming and Racetrack, and that celebration entailed parking a Thoroughbred race horse on the lawn.
Marking the life of another farmer led to driving a massive John Deere tractor onto the funeral home property.
Another gentleman's beloved hobby was his motorcycle – so Waterman wheeled it into the main viewing room and placed the cremation urn on the seat.
"I'm a firm believer in helping people celebrate their loved-ones' life," he said.
Whalen the bull drew some attention for himself as he stood in front of the Norman L. Waterman Funeral Home, munching on hay.
"I had people stopping their cars and getting out of their cars and taking pictures, kids getting out of the car to see the bull. Then the people just visiting, they were just in awe. Many of them said to me 'what a way to celebrate his life,'" Waterman said.
"That was his life, those cattle … that was his life and many people said that."
The chickens weren't part of the plan. But Waterman said that didn't matter, and the feathered friends, along with Whalen, led to good-hearted jokes about steak and eggs.
"They didn't lay any eggs," Waterman said.
---
Edward Munger Jr.
Communications & Social Media Specialist
NYS Funeral Directors Association


---