Join us in Saratoga Springs!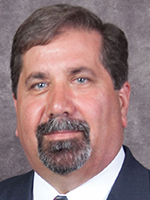 On behalf of NYSFDA, I invite you to attend the 2017 Annual Convention to be held August 20-23 in beautiful Saratoga Springs.
Saratoga is a great place to explore. The downtown area and its many shops are always welcoming, the world-class horse racing is second to none and the restaurants are great too.
Did I mention this year's early registration (before August 14) is FREE to NYSFDA members?
This year's Convention is the culmination of many hours of hard work by our Continuing Education & Convention Education Task Force member-volunteers and dedicated NYSFDA staff. They've selected many great speakers that will provide you with chances to obtain up to 11 hours of continuing education credit. The presentations and breakout sessions lined up are focused on giving you different perspectives on key topics affecting funeral service.
Visit the trade show, chat with the vendors and be sure to thank them for coming and supporting NYSFDA. They are essential partners in creating this Convention.
Convention is also a great place to network with colleagues – there are so many opportunities to learn from each other at our social events!
In closing, I would like to recognize every member for their support and encouragement during my service as President of NYSFDA. I would like to express my thanks to all the volunteer members who have served so diligently.
See you in Saratoga Springs!
Walter J. Kent
NYSFDA President