The words of Union Army General John A. Logan created an important holiday many Americans observe with family gatherings and some with visits to cemeteries.
The modern Memorial Day holiday was created after Logan's General Order marked May 30, 1868 as a day for decorating the graves of "comrades who died in defense of their country."
It was roughly three years after the U.S. Civil War claimed some 620,000 lives – about two percent of the country's population then – when Logan began this enduring tradition initially called "Decoration Day."
His message was simple: he sought to designate this day as a time to adorn the country's war dead's graves, final resting places he said we should guard "with sacred vigilance."
Logan's order was an invitation, too, asking that "pleasant paths invite the coming and going of reverent visitors and fond mourners."
"Let no wanton foot tread rudely on such hallowed grounds."
Opportunities to Visit
Many people consider the Memorial Day Holiday weekend the unofficial start of the summer.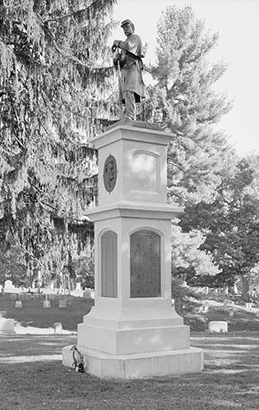 That's especially true in New York State, where the chill of winter lingers, it seems, right through the springtime.
This makes it an ideal time to pause and reflect on the sacrifices made by so many who, in Logan's words, "made their breasts a barricade between our country and its foes."
It isn't a holiday just for those with relatives in veteran cemeteries – though I'll bet there are few native-born Americans without them.
It's a holiday for all who value what we enjoy here like barbecues, family picnics at the park and relaxing walks down the sidewalk.
Although these type of events seem most prominent, the weekend also provides ample time to make a cemetery visit.
That's not overly difficult for people in New York State.
Those near the New York State's capital city may consider visiting some of the soldiers who fought in the Civil War.
There are 149 Civil War soldiers buried in the Soldier's Lot at Albany Rural Cemetery in Menands.
The lot was donated to the Federal Government by the Albany Rural Cemetery Association in 1862, and it serves as the final resting place of soldiers who died in Civil War hospitals in Albany.
One prominent feature there is the 15-foot tall Grand Army of the Republic monument built in 1873.
Here are some details about the other National Cemeteries in New York State:
For those unable to travel to these sites, there may be a closer cemetery serving as the final resting place of soldiers.
Try the Commonwealth War Graves Commission's "Cemeteries Near You" Search feature, found AT THIS LINK..
---
Edward Munger Jr.
Communications & Social Media Specialist
NYS Funeral Directors Association


---