He wasn't a New York State native, but Abraham Lincoln had a huge impact on residents here, including thousands of families who lost loved ones during the Civil War.
The New York State Military Museum and Veterans Research Center in Saratoga Springs hosted a display honoring the 16th U.S. President during the summer of 2016, highlighting several key roles New Yorkers played during Lincoln's leadership.
The exhibit featured a detailed replica of Lincoln's coffin, views of the few images available after his death and descriptions of a three week-long funeral that followed his assassination.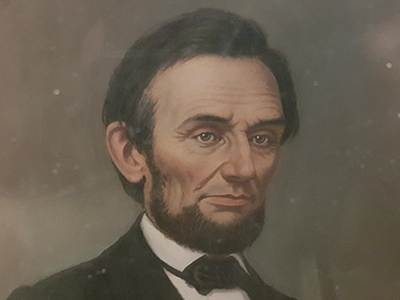 The exhibit was sponsored by William J. Burke & Sons Funeral Home of Saratoga Springs and the Batesville Casket Co. which, in its earliest days, made Lincoln's original coffin.
One of the more informative highlights of the Civil War display showed that it was New York – not Illinois or any other state – that bore the heaviest brunt of loss from America's deadliest internal conflict.
Nearly 40,000 New Yorkers died in the war far away from home; some from combat and another half by disease.
By the time the war was over, most New York families were reeling from the loss of a relative or a friend. Lincoln's assassination took place the same year the war ended.
The replica of Lincoln's coffin was the centerpiece of the display.
It appeared modest by today's standards – but it wasn't, 150 years ago.
Built of solid walnut and covered with valuable, black cloth, Lincoln's coffin is considered to have been one of the most elaborate of the time.
The six foot, six inch-long coffin featured sterling silver handles. It was dotted with studs, also made of sterling silver, according to literature available at the exhibit.
It included a sterling silver plate with a modest inscription:
ABRAHAM LINCOLN
16th PRESIDENT OF THE UNITED STATES
BORN: FEBRUARY 12, 1809
DIED: APRIL 15, 1865
Up until the funeral of U.S. President John F. Kennedy, Lincoln's was the largest funeral in the world.
He was on view for nearly 3 weeks, leaving some to consider his funeral to be the first of the modern day funerals that include wakes, or viewings.
Historians estimate 1 million people attended a viewing for Lincoln - thanks in part to funeral embalming techniques and a funeral train that transported the man all the way home.
The NYS Military Museum's display provided many interesting details about New York State's place in the days following Lincoln's death:
Lincoln laid in state in City Hall in New York City on April 24, 1865.
Lincoln laid in state at the New York State Capitol in Albany for about 12 hours on April 26, 1865.
The Lincoln funeral train that carried the late president, and his son, from Chicago to Springfield Illinois was powered by a locomotive built at the Schenectady Locomotive Works in Schenectady, NY.
Lincoln's funeral train made 22 stops in New York State en-route to Illinois: New York City, Peekskill, Garrison's Landing, Poughkeepsie, Hudson, Albany, Schenectady, St. Johnsville, Palatine Bridge, Little Falls, Utica, Rome, Oneida, Syracuse, Lyons, Palmyra, Rochester, Batavia, Buffalo, Silver Creek, Westfield and Dunkirk.
A New York Soldier – Sergeant Boston Corbett of the 16th Cavalry, NY Volunteers, is credited with shooting Lincoln's assassin, John Wilkes Booth, on April 26, 1865 – the same day Lincoln laid in state at the New York State Capitol.
For a U.S. President, the days and years following Lincoln's death may be the most unique. According to a pamphlet provided with the display, Lincoln wasn't permanently buried until 1901 – that's 36 years after he died.
Lincoln and his son, Willie, were initially buried in a temporary vault at the Oak Ridge Cemetery in Springfield, Illinois on May 4, 1865.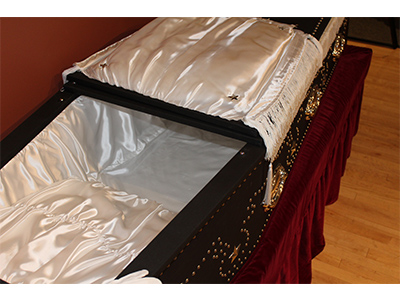 Willie had died three years before his father and he was disinterred and placed on the funeral train so they could be buried together.
A formal tomb was built by 1874 and two years after that, thieves were caught removing Lincoln from the tomb.
They planned to hold it for ransom and in exchange for the freedom of one of their fellow thieves – but authorities foiled the plot.
Lincoln's son, Robert, decided in 1900 that better protection of his father's grave was in order, and Lincoln was again placed in a temporary grave.
Lincoln's Sept. 21, 1901 burial was permanent, according to the museum, and it's highly unlikely anybody will ever see that coffin again.
It was placed into a 10 foot deep cage and it was covered with two tons of concrete.
---
Ed Munger
Communications & Social Media Specialist
NYS Funeral Directors Association


---