Several hundred people are expected to converge on the Smith Point park to commemorate the 18th anniversary of the airline disaster that claimed 230 people.
The now-defunct Trans World Airlines' 747 blew up over the Atlantic Ocean, not long after takeoff from JFK International Airport.
Since then, the victims' friends and family from several continents return to the island's shores to reflect on the sudden end to so many lives.
The annual trip serves, in part, as grief therapy, a relative of one of the victims said.
"It's comforting to remember it, and it's comforting to have a place to go where you can share those memories and you don't have to bottle them up," said John Seaman, chairman of the association of Flight 800 victim family members that formed not long after the 1996 tragedy.
Time has whittled away at the group's membership, said Seaman, whose 19 year-old niece Michele Seaman was among the victims.
But that time has done little for the pain.
"It's been 18 years. We're all getting older and a number of our family members have passed. But we still meet and share our continued grief," Seaman said.
"The experience was so traumatic and so extraordinary . . . it had such a unifying impact on people who were really quite diverse. But it did create a coalition of people and purpose and that is still strong today," Seaman said.
Passengers represented numerous states and countries.
They hailed from places like Australia and France and Ivory Coast, and U.S. states including New York, Oregon, Maryland, Florida and Pennsylvania - home to 16 high school students and 5 chaperones who were eagerly anticipating a class trip to France before their fiery deaths.
Unlike the case of Malaysian airliner MH-370 that went missing in 2014, Seaman said many victims of the 1996 plane explosion were found during a search and recovery effort that lasted more than 3 days.
Until there was confirmation, the uncertainty was difficult for many to handle, he said.
TWA's Flight 800 was a connector scheduled to head to France before it exploded and Seaman said there wasn't a lot that was certain for several days.
"They didn't really know who was on an airplane. Most of them were getting on that airplane as a connecting flight," he said.
Michele Seaman, of St. Petersburg, FL, was traveling from Georgia and got off her first plane at JFK before getting onto TWA Flight 800.
"That was the experience of many travelers. Parents, other family members, they weren't sure. They didn't really know if they made the connection and TWA didn't really know either.
Some were told their loved one was not on Flight 800, Seaman said, "only to be told two or three days later, `no, they were on the airplane.'"
"That creates all kinds of doubts. People, their minds are a tricky thing and if there's even a remote possibility that the person didn't get on the airplane, a lot of people are going to cling to the possibility because the alternative is just too difficult to accept."
"I can't say it's closure but it certainly is important for people to know definitively," he said.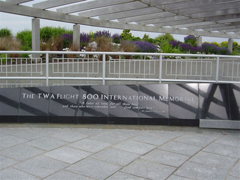 Seaman said he believes the memorial is helping people face their grief and, for some, put it away so they can live their lives.
Initially, the mother of a flight attendant couldn't bring herself to visit, he said.
"It was too painful. After a year or so her son convinced her to come and she said how glad she was she finally came. She said she finally had a place 'where I can put my grief down,'" Seaman said.
"This is a place for it. It lets her feel a little stronger and do a little better. For some people it's almost like they can't forget for a moment. They can't stop grieving for a moment even though it's years gone by."
Not grieving, Seaman said, feels like a disservice to the memory of lost loved ones.
"In order to go on with life, you have to be able to put that grief down. You have to be able to put it away. Yeah, you have to take it out again at times, but it's important to have a place where you can put that grief, then turn your attention to life and continue to live it."
It took the federal government - several agencies were involved - four years to agree on a cause of the disaster.
The National Transportation Safety Board, in a lengthy report, contended a short circuit caused a spark that touched off an explosion in a fuel tank.
Conspiracy theorists suggested a U.S. military training accident offshore was to blame. That was but one of the numerous explanations considered for the massive, sudden loss of life.
There's been other explanations too -- but none of them really matter, Seaman said.
"As my friend, the vice-president of our group said, `You know what, I don't give a damn because nothing's going to bring my boy back.'"
"I've personally entertained so many different theories and beliefs on the part of people from all over the place. From all over the world we've had correspondence, we've seen reports, plausible ones.
Congress held investigations, special committees."
"There was a bit of dissent with the official investigation on many sides. There were eyewitnesses on Long Island. I've heard about missiles, East Germans, Afghanistan, we even had one guy who wrote us about . . . a submarine in the Hudson River shooting a missile."
A letter to the families group, translated from German, was "talking about aliens," said Seaman, who likened the case to mysteries surrounding the assassination of JFK.
"We've got to just accept it," he said.
Seaman said a funeral home near the memorial helps out getting flowers for the commemoration.
It was a tragedy that impacted the lives not only of the victims and their friends and families, but also of those in the community serving as a launching point for the recovery effort and those involved in the recovery.
"As difficult as it was for us at the time, over time we've come to realize how difficult it was for everyone. That's one of the reasons we keep having the service."
It was an emotional experience creating the memorial, Seaman said. Now, there's a struggle to maintain it.
Seaman said financial support from local government to maintain the memorial – built with funds raised by the victims' families – hasn't materialized.
There are two people working to maintain the memorial and it's roughly two-acres of gardens. The park commissioner, he said, estimates the Flight 800 Memorial sees about 250,000 visitors each year.
"It's quite breathtaking, it's quite arresting. People come there and say prayers every morning. It's a very emotionally arresting experience to go through the memorial. You can't get it from pictures," he said.
On Thursday, July 17th, as they've done for the past 17 years, friends and family and first-responders and others who went to the scene to help in the recovery effort will head to the beachfront memorial.
There's plenty of space there for services, it's accommodated about 1,000 people in earlier days.
Seaman said he expects between 200 and 300 will attend this year's event.
Families will get together in the afternoon and evening and spend time together, catch up and then have a service coinciding with the time of the explosion after 8 p.m.
White flowers – 230 of them, one for each victim - are an important aspect of the commemoration.
Some people will lay them on benches, others will float them into the ocean and "everyone will remember that night," Seaman said.
Currently, there's an endowment used to pay for upkeep, but it only has roughly $200,000 in it. Accountants suggest a sum of $3 million is appropriate to establish a perpetual maintenance fund.
Seaman said the nonprofit association of victims is running a memorial paver program offering memorial stone inscriptions as a fundraiser.
---
Ed Munger
Communications & Social Media Specialist
NYS Funeral Directors Association


---