A watchtower looms over the silhouette of a war prisoner on the flag that's become a symbol for the day this flag joins the American Flag on the third Friday of September.
POW/MIA Recognition Day, observed in the U.S. Since 1979, serves to remember American service members held captive, missing and whose fate is unknown.
Government buildings will fly the flag while others visit cemeteries of those once missing, but later identified, brought home and laid to rest.
Some will visit memorials that remember the lost by name who are still unrecovered.
More than 80,000 Americans are still missing from conflicts dating back to World War I – and more, counting earlier wars.
Finding out if you have a relative who never came home from war is an important first step to commemorate this solemn occasion. Below are some resources to help.
American Revolutionary War
It wasn't until the American Civil War that any concerted effort to find and identify those missing in action began.
New Yorkers unsure if they have ancestors who fought in the American Revolution can search for their names in PDF documents available on the website of the New York State Military Museum.
The resources include the book "New York in the Revolution as Colony and State," published in 1898 and a supplement to this book, bearing the same name, published in 1901.
CLICK HERE to visit the NYS Military Museum's web page with this information.
To learn more about the beginning of work to account for missing American soldiers, visit the website of American Heritage, at this link.
U.S. Civil War
According to American Battlefield Trust (ABT), about two-percent of the U.S. population – 620,000 people, lost their lives during the Civil War.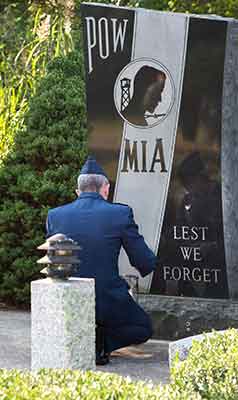 The greatest number of lives – 51,000, were claimed during the Battle of Gettysburg.
ABT's website provides a concise outline of the major battles and losses on both sides.
According to the U.S. National Park Service, there were so many Americans involved in this war that pretty much every American had a friend, family member or neighbor who served in this war.
Many never came home.
New York State contributed the greatest number of soldiers – 509,636, followed by Pennsylvania (508,102), Ohio (464,175), and Illinois (370,437).
You can search the NPS Soldiers and Sailors Database to see if you have a relative who served in this war, CLICK HERE to visit the search page.
There are other sources of information compiled into one webpage maintained by the U.S. National Archives, too.
Civil War records held by the National Archives include Military Service and Pension records in addition to a helpful discussion on how to go about compiling a soldier's history.
CLICK HERE to visit the National Archives' Civil War information web page.
World War I
A search in the American Battle Monuments Commission website reveals a total of 4,423 Americans, from all military branches, as Missing in Action from World War I.
You can search for a family member by entering a name into the ABMC's website and find the rank, branch of service, the cemetery where they are buried – or the memorial their name is listed on, as well as the state they entered the service from.
New York State residents did their part during this war that claimed approximately 116,000 American troops and wounded about 20 million.
These numbers include more than a half-million New Yorkers serving – and 13,956 killed helping to free Europe.
CLICK HERE to search the ABMC website to learn if you have a relative who went Missing in Action during the First World War.
Note that this list will only provide information on those who died overseas and are memorialized there – not any who have been repatriated to the U.S. for burial.
World War II and Later
Today, the U.S. Department of Defense POW/MIA Accounting Agency searches for, identifies and works to bring back home all American soldiers missing from the Second World War and later.
The agency estimates more than 82,000 Americans are missing from WWII, the Korean War, the Vietnam War, the Cold War, the Gulf Wars and other more-recent conflicts, listing their numbers as follows:
WWII: 72,823
Korean War: 7,683
Vietnam War: 1,594
Cold War: 126
Gulf Wars: 5
El Dorado Canyon*: 1
*U.S. air campaign in April of 1986, striking targets in Libya following terrorist killings of Americans
As of mid-September, 2018, there were a total of 6,420 people from New York State listed as unaccounted for in wars from WWII and later.
CLICK HERE to search for the name of a friend or family member who is unaccounted for in the Defense POW/MIA Accounting Agency's database.
The agency is actively looking for assistance to provide complete information on the missing – and people who have photographs of their loved ones who are unaccounted for can assist by providing photographs.
If you find a family member listed as unaccounted for, CLICK HERE to search the list of missing service members for whom there is no photograph - you can help by providing that photograph.
May all those who went missing in action rest in peace.
---
Edward Munger Jr.
Communications & Social Media Specialist
NYS Funeral Directors Association


---
---