Growing up I didn't plan to become a funeral director.
Though the community may have assumed I would go into the business and my dad may have hoped I would, he never pushed me to be a funeral director.
Having that said, he did always have me working around and in the funeral home as needed.
He's definitely of the generation that believed in the value of a hard day's work.
And as I would always jokingly say growing up, the "Protestant Work Ethic" is alive and well and living at our address!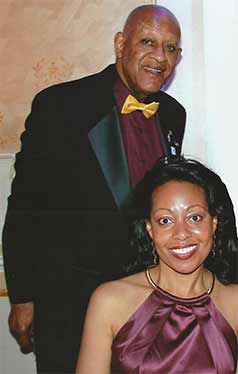 From vacuuming to shoveling snow, pushing a lawn mower, pushing a casket, doing office work or reading an obituary at a service, I've always worked - at home and at our business - because of and alongside my dad.
My dad's hard work ethic came from his dad.
He worked in, and then ended up taking over, the business from his father, who started the business.
He worked long, hard hours alongside his dad, and especially after his dad died, day in and out, week in and out - as most funeral directors do.
But in addition to working hard from an honest, hard work ethic, my dad worked hard because he is honest, humble, self-reliant, has a character of integrity, spirit of serving, and desire to excel, exceed and succeed.
He brought those qualities to the character of our business.
These are also lessons I learned, and the qualities my dad instilled in me.
If something cost $27.03 that's what he paid, not a cent more, not a cent less.
He didn't haggle. If you were owed $27.03 in change that's exactly what you got, nothing less.
He's soft spoken and unassuming with an all-American wholesomeness and quiet elegance.
He is in no way brash, boastful or with the 'bells & whistles' showiness exhibited by many, stereotypically.
He's more the Sears card-carrying, drive American, guy next door, who took up magic as a hobby to entertain his kids at their birthday parties.
I have a younger brother also working with us at our business, though not at all interested in being a funeral director.
My dad's commitment to excellence and serving our community caused him to easily work 24/7.
While this helped create a well-respected, quality business, and afforded him the means to have me go to college (my beloved University of Virginia), it also meant he was gone from home much of the time and missed many birthdays, holidays, and special occasions.
As the saying goes 'you may see my glory, but you don't know my story.'
He may have been respected by many in the community, based on their experience with us, but he was also misunderstood by many based on their perceptions from afar.
And while we may have been just an everyday, ordinary, hard-working middle class family in our view, we may have been seen by others as one of the oldest Black/African-American owned businesses.
It was started from a need because at that time, white funeral homes wouldn't bury us.
Our business was respected for carrying out that service in our community.
And at the same time, we were perceived by others as rich and even ridiculed or feared for the type of business we owned - a funeral home.
And once going to college, it was the opposite for me, where many of the well-to-do, well off students who were used to lawyers, doctors & executives for parents may have and still may see me as blue collar, working-class beneath them.
My quiet, soft-spoken demeanor, which I inherited from my dad, could be perceived as meek.
But again, people don't know your story.
After college and taking a couple years to do my own thing, my dad very matter-of-factly, yet quietly and diplomatically, suggested I go to mortuary school to at least get my license to be able to just own the business, as required in NYS, even if I chose not to work in it.
After I thought about his suggestion, as well as soul stirring words from an elderly client, I did decide to go to mortuary school for just that reason.
I was blessed to be able to serve my residency at our funeral home, opening my eyes even more intimately.
That was over 20 years ago.
Again, not knowing my story, many - whether in the industry or not - thought I was just handed something on a silver platter.
But if you knew me and knew my father, you knew that was not so.
I graduated at the top of my class. And though it was a blessing to continue to work for my family business after becoming licensed, that doesn't mean it was always easy.
I did everything from lots of cleaning and filing to prep work and the regular removals and services expected of a funeral director.
I was new to the industry and learning it was more of a calling for me.
So, I was fresh and bright-eyed with lots of ideas I wanted to implement.
But there are issues unique to already established, family-owned businesses that don't exist in startups.
There is the hurdle of change - from what's always been done in a certain way that got you this far, that the community is used to; to keeping up with the pace of modernization and especially, nowadays, technology.
My dad was okay with some things, in his timing, but wasn't going for all my eager ideas.
He let that be known but in his slow, quiet way.
I, being the respectful person I was brought up to be, highly respected his opinion and authority.
And though I was coming with a lot of new ideas and education, I also respected that he had a wealth of excellent ideas, extensive knowledge, and even greater wisdom and experience.
I knew I had a lot to learn from him and was able to humble myself and do just that.
Before the days of Google & YouTube, he knew everything from all the zip codes in the county and which place was a city, town, village, hamlet or other.
He knew how to embalm without a machine; and how to serve organizations as a member or officer, both black and white.
He could work in the business full-time yet also have hobbies of his own, all while still being a dad when he was able to be home.
Like the time he took time at Christmas to leave a reply note from Santa after eating our milk & cookies.
He left meticulously crafted footprints (of white flour) near the chimney as though they were that of snow from Santa's boots.
How could I not take advantage of all the knowledge he has offer?!
I began asking questions constantly, trying to acquire as much knowledge as I possibly could that I knew he had.
Without being vocal, he helped develop my sense of inquisitiveness.
He instilled education in us early on, and I, as he, believed in constant education, even before continuing education credits were required in our state.
I was going to continuing education classes before I even became a funeral director, because that's where he brought me, that's what I was interested in being.
He may have had to miss birthdays and holidays sometimes, but yearly we always had family vacation.
It was always a convention for a business or a service organization he was part of.
Like Exchange Club, where many men would go without their families, or their wives.
Children would stay separate if they did go.
We always went and remained as a family and I'd easily go to courses with him, before I was even licensed, because it was important to learn.
And it was because of things like this, I believe, that over time my dad finally started to realize and acknowledge that I was inheriting and exemplifying his values and character.
I was honest with integrity, and respectful of my history, ancestors, and of other people.
He saw that I was dedicated to learning and that I treated the business like the ministry it is to us, and not an opportunity that may be fleeting or self-serving.
He saw I sacrificed my time and myself, as he did.
I understood and demonstrated that I knew funeral service was not a 9 to 5, Monday through Friday career, unlike some.
I showed that it's a ministry of service and sacrifice; that you don't always get compensated as you should in return - especially not with the stringent structure in NY.
The low costs we kept to be affordable, and ridiculous number of funerals we never even got paid for because of his quiet nature that people took advantage of.
The lack of billing enforcement that wasn't needed in an age of honesty when his father had the business.
But you will be rewarded in other ways.
And all the education and sacrifice as well as integrity, honesty and character will certainly need to be demonstrated by anyone filling his shoes, or now mine, as my shoes were created by him and his father before him.
It's a legacy that must live on beyond him, beyond me, for anyone who properly wants to carry out our business with the compassionate, caring elegance and attention to detail we strive for.
He had high expectations for himself, and thus required it of me and anyone else choosing to follow in his/our footsteps.
And despite disagreements over time and restricting me from implementing ideas, we always got along.
Through the hard times it was never uncomfortable at work, and being the spiritual family that we are, from how he and my mom raised us (she's also a funeral director), we all would individually, once home, pray at the end of a long day, and the next day come back and be able to work together cohesively.
And through the good times working alongside him, it allowed us time to spend together and talk, that we otherwise wouldn't, either because we're both quiet, or because if we didn't work together we'd never see each other.
So, thankfully, working together has been a pleasure and a bonding for us overall.
I think a turning point for us, and more realization for me of how close our paths had come, was a few years ago when we did services for a soldier who died in active duty.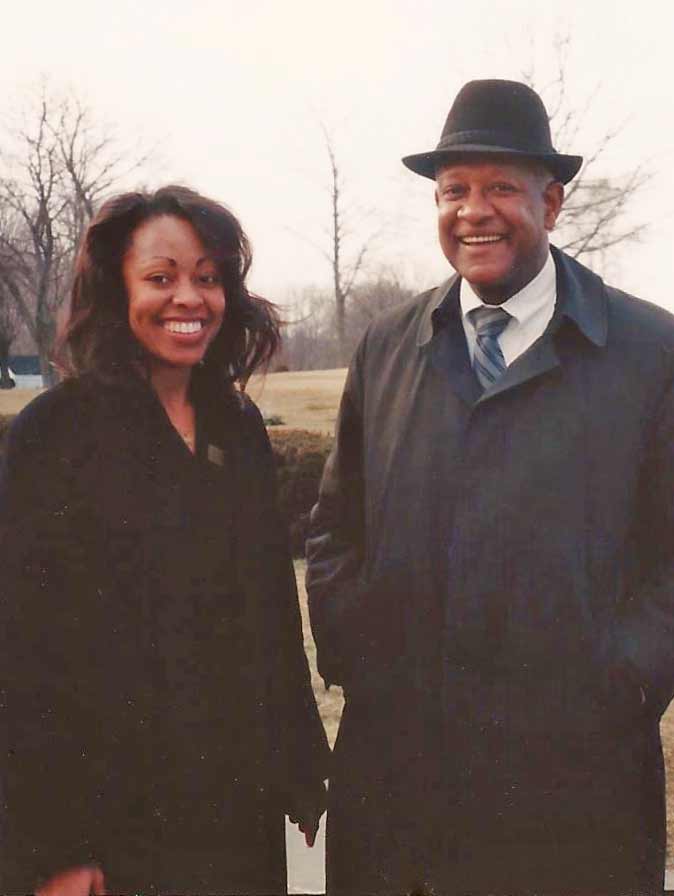 We were together from start to finish.
We were in the hearse on the tarmac at a NY airport retrieving the soldier's body.
We shared the view of a plane full of people watching such an honorable exchange; and the care the military and our family gave daily to the soldier's family.
We were together for the procession carrying him to Calverton National Cemetery from Westchester County, 2 hours out to Long Island, with full military and full motorcycle escort blocking every single exit along the Long Island Expressway midday on a week day.
What an impressive, impactful and life-changing sight, experience, and service to render, together!
And after a long and exhausting week, on the drive home where I was driving the hearse so that he could rest, I at one point in the silence just looked at him saying "I bet you never imagined that continuing this business from your father to your children, that it'd be your daughter driving you in the hearse back from Calverton National Cemetery after full military honors for a soldier - wow!"
Though he quietly didn't even express anything then, as one of our friends told me recently, "he showed and expressed his love for, full trust in and acknowledgement of all you do and your value when he allowed you to take the helm, make decisions, and speak for him" a few years before that.
I believe he could see, not from what I wanted to implement, but from what I demonstrated - that I loved God; I loved myself; I loved our family; and I loved our business.
I'd never do anything to bring harm to any of those.
This is a hard business generally, and especially for women.
Though it's a generational family business, nothing was handed to me.
From going to conventions since I was a baby, at least 90% of the kids that I knew and grew up with chose not to go into this business.
That's because of the long hours they saw their parents work for little money or acknowledgement.
And for not wanting to miss their wife's anniversary or their kids' birthdays and all of life's firsts - 1st steps, 1st talking, etc., as their dad did theirs.
They wanted more socially recognized, lucrative careers that had benefits, vacation weeks, and definite ends to the work day/week.
And many unlicensed grown women and men who'd come to conventions may be looked at as just eye candy or hangers-on because they're not actually in the business.
But I followed in my father's footsteps, unintentionally at first, but have by becoming a NYS licensed funeral director and member of associations like NYSFDA, NFDA and NFDMA; board member of MetFDA; CFSP.
I'm a member of the New York State Funeral Directing Advisory Board; Trustee at our church; and member of or on the board of many local community organizations, as well as Life Member of the NAACP.
I followed in my father's footsteps not because I was mandated as the daughter of a funeral director, or given anything in charity as a woman.
I did it because I had a great role model in both my father and my mother of what a good funeral director and great person should look like, who God was able to speak to through their steps, and thus order mine.
I am a college educated dual major with 2 Bachelor's degrees, a Summa Cum Laude graduate of mortuary school, CFSP, an officer and/or board member of associations, an award winning funeral director and business person at a third generation, over 100-year-old independently owned and operated family business.
I'm mindful of my ancestors and past, I'm looking forward to the future and continued service, and I will always be in some way, daddy's little girl.