Being a funeral director can be exhausting, it is a 24 hours a day, 365 days a year job.
Being a mom can be exhausting, it is a 24 hours a day, 365 days a year job.
I am both.
Both are the most fulfilling things in this world.
Death does not take a holiday and neither does being a mom.
I have been a licensed funeral director for 18 years, a wife for 10 to another funeral director, and a mommy to two beautiful, amazing daughters who are 7 and 5
My mornings are filled with making lunches, and pony tails, all while trying to blow dry my hair – a five-minute process that turns into 20 minutes.
This all happens while I am going over, in my head, the details of the funerals that morning, arrangements that day, cemeteries and caskets to be ordered, removals and embalmings to be done, folders to be completed and the 100 phone calls and emails to take care of
At the same time, I'm trying not to forget my girls' library books, and making dinner for the night because I'm running a bereavement group in the evening.
My family needs dinner to eat when they get home.
Did I mention there is still laundry to do, bathrooms to be washed, costumes to get ready for dance, and I forgot that summer camp applications are due tomorrow!
My life is not a 9-5, Monday through Friday job.
My schedule can get crazy (along with my husband's), but my girls know that this is OUR normal.
On the days I drop my daughters off to school and hug them goodbye and say "Mommy won't see you tonight, I have to work late," they understand that Mommy is working to help people.
Not just the dead but the living, too.
But that doesn't mean that every time I hug them and walk towards the car I don't have a tear in my eye because I will not tuck my babies into bed tonight because I am helping others.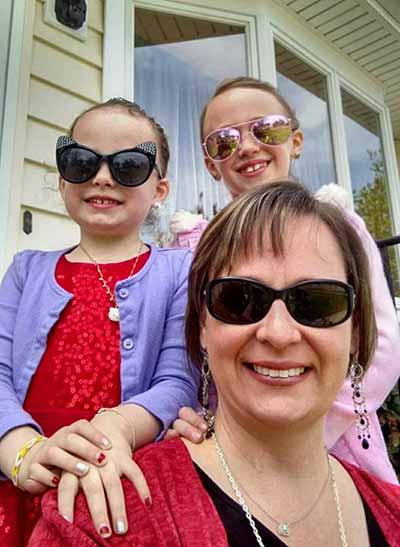 Those are the days that being a mom and a funeral director are harder than others.
I have driven in blizzards to bring my girls to my mother-in-law's because I had to work.
I've carried my daughters through two feet of snow in a suit to get them inside, safe and sound with my car parked in a snow bank so I could console a family in need.
Driving in a blizzard is not fun, being in a suit and shoveling your car out of a snow bank in a suit is not fun.
I would love to be playing with my daughters in the snow and making snowmen and snow angels.
But someone's loved one has died and as much as my girls want their mommy to stay home, the family who lost their mom or son needs someone to guide them through the worst time of their life.
I am that person.
But, on my days off or at night, I make the most of my time with my ladies.
I know all too well that life is fragile and short.
So, we laugh and imagine together, we read books and snuggle on the couch.
We garden and plant seeds of hope and we make memories that will last a lifetime, even if it is while I am on a call.
And the snuggling, planting or imagining sometime does get interrupted by a first call or me having to put my suit back on to head back to work.
Being a funeral director and mom is complex.
It can be overwhelming and trying at times, but I would not trade the world for doing both and being both.
It is an honor and a privilege.
---