My name is Nicole M. LaRue, thirty-six years old, the daughter of William J. and Shelley A. Breen.
I am one of twelve children and I graduated from Ogdensburg Free Academy in 2001.
Every day I play two very special roles.
I am a mother to two amazing young boys, Zakkary & Alexander, and I am a Funeral Director/Owner.
Like many others, I'm torn between my desire to be the best mother for my children while striving to be mentally healthy for the families we serve.
I had to find balance between these two very important jobs.
I had to get creative and develop skills to be the best possible mother to my children, while continuing to progress in my professional life.
Throughout my life, I have always been strongly committed to pursing my goals and my career.
Early on, I had a career-driven mindset.
I was 21 years old when I dove into my career in Funeral Service.
I felt a strong pull, wanted to help people and thought many of the job requirements fit who I was.
While enrolled in SUNY Canton's Mortuary Science Program, I was employed by Allen-Nichols Funeral Home in Ogdensburg.
I worked alongside a Funeral Director, watching her every move, soaking in any knowledge and experience that could possibly benefit me.
I simultaneously worked as a waitress.
While juggling schoolwork and two jobs, I learned early on the importance of time management, structure and discipline.
I went on to serve my residency at Lundy Funeral Home & Cremation Service, Inc., in Carthage, New York.
I have now provided over a decade of distinguished funeral service at this location.
For seven years, my main role in life was being a Funeral Director.
During those years, I was a workaholic. I would work more than 10-hour days.
Nearly every weekend was filled with work, and my personal cellphone was constantly ringing with work-related calls.
Work came first, period.
I missed family functions and I sacrificed a personal life.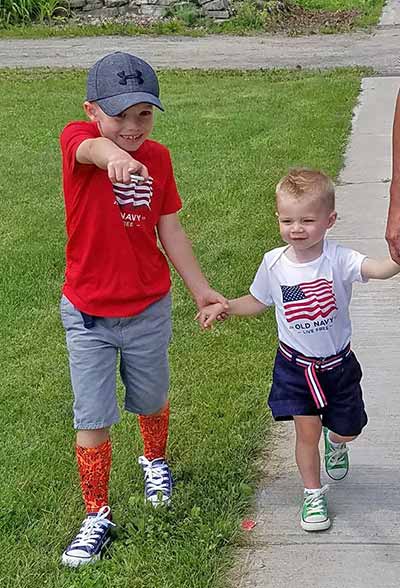 In those years, as exhausting as they were, I sacrificed a lot but gained skill, efficiency, confidence and a mean ability to multitask.
I'm so thankful that I did work so hard in my early years, as it gave me the confidence in myself that I needed to become a successful Funeral Director.
When I found out my husband Steve and I were expecting our first child, I knew that my life was going to shift and change dramatically.
Now I had TWO roles that meant the world to me.
I quickly developed fears of not being able to juggle my new life and worries that co-workers wouldn't understand my new need for balance.
Upon the birth of Zakkary, I had to get proactive and creative.
It became very important to have a schedule and organization in all areas of my life.
Without that, I would not be able to "do it all" like I imagined.
Today, with my oldest son being seven years old, my life as a mother and funeral service professional is a great balancing act that I'm learning along the way.
I've developed small efficiency tricks like making the chaotic mornings easier by preparing clothing, meals, etc., the night before and not wasting time at work while I have it.
I've developed an amazing support system to lean on when I need help.
My transition back to work, after my second son, was easier for me because I previously had made the adjustments to help my work-life balance.
My job as a Funeral Director has taught me that I can handle anything, including motherhood.
It's taught me to be adaptable to any situation and has given me confidence in all aspects of my life.
There is also a sense of freedom and flexibility in my job that doesn't come with others, allowing me to attend school activities and take time for my children when necessary and possible.
Raising a child only comes once in a lifetime!
My job has taught my children the importance and fragility of life.
When my son's second grade teacher lost a child, he asked me many questions.
We have an open line of communication regarding death – something that many children are kept from until it happens to someone close to them.
It has also opened the door for us to discuss the meaning of religion and our faith as well.
Finding balance is never simple, and it's never permanent, either, especially in Funeral Service.
We look for balance, find it, lose it, and find it again.
This is all part of the process. The constant is that every day, I am striving for it.
Having a plan and a system in place helps me when I lose my balance again.
My responsibilities aren't getting any fewer. But every day, I find ways to do it all more efficiently while taking care of myself, too.
I wear many hats as a member of the New York State Funeral Directors Association.
I am on the Bridge Commission Committee, the Budget & Finance Committee, and the Continuing Education & Convention Education Task Force.
I am also Vice President of the Jefferson/Lewis County Funeral Directors Association.
During the summer, I am a New York State Marching Band Judge for St. Lawrence and Jefferson County parades.
In April of 2016, I fulfilled a dream of mine by purchasing a funeral home with my business partner, Christopher Pitcher.
For two years now, we have put our hearts and souls into LaRue & Pitcher Funeral Home and witnessed its consistent progression.
I stress to any young professional entering this field, you CAN be a wife, mother and Funeral Director simultaneously.
You will meet people who try to steer you away from this field, stressing that it's impossible to juggle all three roles.
They are wrong.
Don't listen to those who are negative. You will find many in this career.
Just do you and don't worry about the rest.
Many will try to knock you down or say untrue things about you.
Remember, always be yourself and serve your families to the best of your ability.
Don't judge anyone by what others say. Make your own judgements.
Offer support and be a loyal friend and employee.
This job is hard and you will need to dedicate yourself.
Waking up to my two, fun-filled boys and then going to do the job that I love gives me purpose.
I was made to do both and am unwilling to sacrifice either.
The desire for a career does not make you a bad parent, nor does the desire for a work/life balance make you a bad employee.
My role as a Funeral Director has made me a better mother and my role as a mother has made me a better Funeral Director.
Undoubtedly, being both has made me a stronger woman.
---