Students attending Ulster BOCES Health Occupations Explorations Program (HOEP) at the Career & Technical Center had a unique experience exploring the career responsibilities of a funeral director.
At first glance, the career of a funeral director may not seem closely related to heath occupations.
However, coursework in anatomy, physiology, and pathology are often required for practitioners, linking the field very closely with the HOEP curriculum.
As part of the course, students get exposure to real world work experiences by traveling to different medical job sites and engaging with professionals.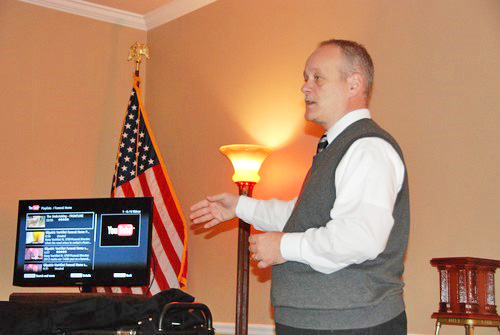 Under HOEP instructor Dina Navara's instruction, a group of students visited the Gilpatric-VanVliet Funeral Home, which recently moved from Kingston into a newly renovated facility located next to the Ulster BOCES Port Ewen campus.
Students had the opportunity to hear first hand accounts about the day-to-day operations of a funeral home from funeral director Harry VanVliet.
Topics covered included what steps are taken to prepare the deceased for a vigil and ways to care for the mourning family.
Kingston High School senior Kayleigh Bogert was riveted to the presentation because she has already decided on a career as an undertaker.
As a junior, her first year was rife with discovery researching healthcare careers.
"I heard about the nursing program when I was at Kingston High School, and then I found out about HOEP and liked the idea of investigating different professions," she explained.
Funeral Service a New Addition
Mortuary science is a new component to the HOEP and wasn't available last year.
Kayleigh has since moved on to the Ulster BOCES one-year certified nurses aid program, and asked to tag along on the field trip.
"I like the idea of helping people understand death, or at least coming to accept it," explains Kaleigh.
According to Ms. Navara, the purpose of HOEP, which has been in existence for three years, is to provide students with real-life experiences that will help them make educated choices about post-secondary school and employment options.
The healthcare field is considered one of today's more promising and stable career choices, and the need for qualified workers at every stage of life is continuing to increase.
In fact, the program's popularity has grown to include more than 65 students over the course of three sessions per day.
As for why mortuary science was added to the curriculum, Ms. Navara said death is a natural part of life.
"It is the responsibility of health care providers to care for individuals throughout the continuum of life, and this continues into the experience of death," explained Ms. Navara.
Mr. VanVliet agreed, stating the role of a funeral director is to contribute to the honoring of loved ones in a meaningful and respectful way.
Rondout High School student Shelby Terwilliger said that after the visit to the Gilpatric-VanVliet Funeral Home she also intends on pursuing a career as an undertaker.
Shelby said she feels drawn to the occupation because she finds value in comforting the family during the loss of a loved one.
She is especially looking forward to the cosmetology component of her professional training.
"The last time a family says goodbye to a member, it is really significant. It's important to help mourners remember their loved ones when they were at their best," says Shelby.
The goal of the HOEP is to prepare students for a career in healthcare by giving them the opportunity to explore various careers through engaging project development, hands-on activities, observation, and the shadowing of professionals in all allied health, medical, and nursing fields.
Students receive instruction in a myriad of areas, including medical terminology, legal and ethical responsibilities, communications, safety practices, anatomy and physiology, nutrition, and emergency skills.
Academic instruction is integrated into the program, and students can earn credits for career and technical education, technical health, technical science, technical math, and English.
For more information on the Ulster BOCES HOEP program, contact Marita Kitchell, director of the Ulster BOCES Career & Technical Education Center, at 845-331-6680 or by emailing mkitchel@ulsterboces.org.
---
Editor's note: Re-printed with permission. This article originally appeared on the website of the Ulster BOCES