Jack, the cat who adopted us three years ago, arrived on our doorstep because he has a special calling.
Most days in the funeral business are emotionally overwhelming, but Jack lightens the atmosphere and is a great stress reliever for our family and the families we serve.
Even though most of his day is spent lounging in the sun, occasionally shredding some paper or sitting on a desk, he plays an integral part in our lives and the business.
We ask permission from families if they would like a visit with Jack. If they agree, Jack will saunter in and flop on the floor and the magic begins.
Families love his presence because he brings calm and peacefulness in a very trying time. He lifts spirits and brings comfort with his "power of purr."
Studies have shown that petting a cat can lower blood pressure, and the power of touch removes negative energy and brings healing.
Cats have keen senses and are an invaluable tool in helping to soothe the soul. These majestic animals feel sadness and want to relieve it.
Not everyone is a fan, mostly because of allergies, but a lot of people fall in love with him and want to take him home.
We quickly realized that Jack wouldn't be happy anywhere else. Both of my sons brought him home with them at different times and Jack basically hid under their beds and stared at the wall.
Once he returned to the funeral home, he flopped on his back and smiled. This is his forever home.
We worried about Jack being lonely, but knew he detested all of the cats that daily dine at our outdoor feeding station. When he steps out for a bit of fresh air, he chases them all away.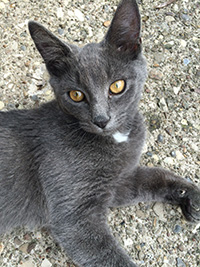 But a few months ago, we noticed that he would allow one skinny, little, delicate, gray kitty to eat in peace.
I believe he felt sorry for her. I watched the situation for several weeks and one day, she reluctantly sat with me and allowed me to pet her.
She has a tiny, squeaky, high-pitched voice that is adorable, but she is very skittish and afraid of people.
As fate would have it, we invited her in and she decided to stay. We named her Violet and had her spayed.
I was thrilled for Jack, who immediately began licking her, which was shocking because he is the toughest cat in the world.
His body may be full of battle scars, yet underneath his gray, scruffy fur, he has a heart of gold and is a gentle giant.
Violet willingly accepted Jack's constant attention. His only source of contention with her is she eats too fast and hogs all his food but that's his own fault because he's such a gentleman and allows her.
They sit with each other and play constantly; they really love each other.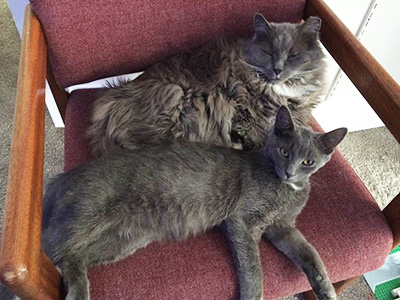 It's too early to tell if Violet will ever develop the calm personality her older brother possesses.
But it doesn't matter; she is a welcome addition to our family who is very sweet and entertaining.
Needless to say, they are our beloved cats of affection who came to us because we needed them.
We are truly blessed to have this unique situation and the love they give us. They are precious companions we all adore.
My hope is that businesses, if appropriate, will consider adopting one of the many homeless cats or dogs who desperately need our compassion.
Animals are so beneficial for our mental and physical health, and I guarantee that employee productivity will increase and morale will improve!
There's an old veterinary adage that states: "If you put a cat and a bunch of broken bones in the same room, the bones will heal."
---
Peg Cushman
Peg Cushman is an office manager for the Rhoney Funeral Home in Niagara Falls, NY and works along with her husband Mike and sons, Robert and Wills and Jack the cat!


---