Busy Funeral Directors Can Still Get Healthy
If your funeral home is like mine, there can be hours or days of downtime as you wait for a death call.
Not only is this an opportune time to enhance your funeral home facility and its operation, but more importantly, it's an ideal time to work to promote your own health.
Even if you work in a funeral home with little downtime, and whether you're new to funeral service or have spent decades in the business, maintaining your health is imperative – and is an asset to your firm's ability to deliver exceptional service to families suffering from a loss.
When I first started in funeral service, my employer encouraged me to seek ways to stay healthy. As he explained it then, I would be of no use to him being flat on my back with an illness or incapacitated by an avoidable injury (caused by being unfit).
Since funeral directors are expected to be on call at a moment's notice, it is imperative that they maintain their physical health.
As he explained further, this expectation to stay healthy was not meant simply for his short-term benefit as an employer, but also to benefit me over what I planned to be a long career in funeral service.
In fact, he discovered the benefits of regular exercise and healthy eating late in life, and his newfound lifestyle quite literally saved his life soon after he transformed himself into a picture of health.
At first, I found fitting a time to keep myself fit into an already packed schedule incomprehensible. I am a husband of a full-time working wife, a father of three very active children, and a volunteer for various community activities.
After being licensed, I was also to be present for every death call, arrangements conference, and funeral service, and was tasked with completing every embalming.
However, I carved out time to exercise.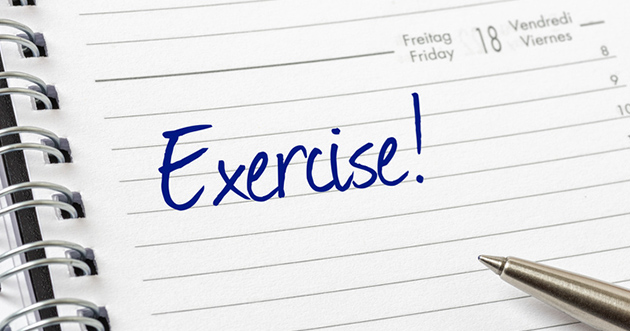 What I thought was incomprehensible turned out to be just an excuse because now, as the firm's manager, I must participate in all of the activities mentioned above as well as manage the firm operation and its finances.
For me, our funeral home's downtime is where I began my transition toward fitness. I am fortunate there are opportunities at our local YMCA where I can opt to play pick-up basketball games, swim laps, or exercise in its fitness facility.
Like many, I do not enjoy working out in a gym. So, in addition to the YMCA options, I either exercise at home with weights, or go for runs, whether indoors on a treadmill or outdoors.
To promote the health of its employees, a funeral home might even do well to provide their employees with a compact exercise bike or some free weights that can easily be stored away when not in use.
As most exercise trainers will explain, the exercise goal should be a minimum 45- to 60-minute workout four days per week that raises your heart rate at a safe level.
That equates to a maximum of 4 hours out of approximately 110 awake hours per week -- or just 3.75% of one's total weekly awake time!
This seems like a miniscule price to pay to enhance, and prolong, your ability to be a positive contributor to your workplace and avoid injury while on the job.
So, even if you do not enjoy much downtime at your firm, I have found keeping fit outside of work is entirely possible.
While exercise is an essential component of maintaining one's health, it is all for naught if one consistently consumes foods lacking in nutritional value.
My wife, an exceptional health and fitness director at our local YMCA, has provided me more guidance to share in this article about nutrition.
First, she highly recommends anyone with a serious desire to get – and stay – fit to become familiar with the "My Fitness Pal" application (see: www.myfitnesspal.com). It can be downloaded on a computer or smart phone.
This program helps individuals to not only easily track their daily fitness activities, but make it easy to track one's food intake – which is usually the more challenging of the two tasks.
My wife also recommends trying to start by eating in the following ways:
Eat Only Complex Carbohydrates - Complex carbs are the only type that give the body sustained energy. Eat them at the beginning of the day, and also 30 minutes before any exercise workout. Examples of such foods include oatmeal, whole grain breads, quinoa, brown rice, and wild rice.
Eat Protein With Every Meal – Protein-rich foods are helpful not only due to their nutritional value, but also because they give the body a feeling of being "satisfied." Eggs, chicken, almonds, cottage cheese, Greek yogurt, broccoli, lean beef, tuna are just some examples.
Eat Fruits & Vegetables – The majority of all foods consumed should be fruits and vegetables. These foods are also energy-rich and their nutritional value is unmatchable.
Drink Water, Water & More Water – Eight to 12 eight-ounce servings of water should be consumed daily. Water not only keeps you hydrated, but also helps to keep your internal systems operating efficiently, including the efficient removal of wastes your body wants to be gone!
Also, ensure you eat three full meals per day, and add in snack times prior to and after lunch. Even a healthy snack sometime after dinner, but well before bedtime, is beneficial.
By eating modest amounts throughout the day your body will continually receive the energy it needs to transition your exercise into fat-burning muscle.
Finally, do not skip meals, and always stay away from processed foods, foods packed with salt, sugar and corn syrup, and "white food" carbs, such as pastas and potatoes.
When you exercise regularly and consistently consume healthy foods, your body will stay healthy for longer and your energy levels will increase.
This is the way your body says, "Thanks!" Not only will your health and energy help to reassure your employer that you can be relied upon at any given moment, but you will succeed in helping families deal with the loss of their loved ones.