As you know, our services are held relatively quickly after the time of passing.
At F.A. Albin & Sons, this is not the case. Services may not occur for several weeks after one's passing.
Everything is taken care of over time, and families are given ample time for grief and preparation.
Also, the funeral home provides the family with invitations when requested, which are sent out to print once funeral arrangements have been made.
The family is then given the time to write them out, mail them, and receive a response from friends and relatives.
Also, their arrangers put together what are called "Service Sheets" which outline the events of the service and include favorite photographs of the deceased.
These are also sent out to print and are provided to family and friends on the day of the funeral service.
Families are granted any reasonable amount of time prior to services being conducted whether it be days or weeks.
Two coffin fitters are employed to ensure the measurements of the coffin will accommodate the deceased appropriately.
Occasionally, an American casket may be utilized, but for the most part, a standard coffin is typically chosen and customized to suit the deceased.
The lid - completely detachable - is slid downward toward the foot end, just enough for viewing.
Their funeral home is open during normal business hours.
A series of viewing rooms line one of the main halls just beyond the reception desk.
I was led into a viewing room which was just large enough for the coffin, a register book, and several mourners to pay their last respects.
Like a typical American Funeral Director might, I immediately wondered where the long line of relatives are to stand all night during calling hours.
As it turns out, calling hours differ in the UK compared with in the US in several ways.
Upon meeting with a funeral arranger, the family will choose what day/days their loved one is to be viewed.
If there is a restriction as to whom the family will allow to visit, they then give their arranger a password, specific to their loved one.
The family is free to forward that password to anyone they choose and those people may come to the funeral home during normal business hours, speak the password to the receptionist, and pay their respects to the deceased in private.
Should there be no restriction, family and friends may simply speak the name of the deceased and they will be led to the viewing room to pay their respects.
I know what you're thinking, and yes, that means no long lines out the door, in the freezing cold, into the wee hours.
The funeral home employs full-time pallbearers as it is rare for family and friends to carry their loved ones' coffin.
Staffed Pallbearers are dressed in standard F.A. Albin & Sons attire, a black stroller with burgundy accessories to accompany their custom fleet of Jaguars of the same rich color scheme.
The coffin is carried to and from the hearse on their shoulders. A funeral director or "conductor" as they say, is often seen with his top hat and cane, marching in front of the hearse.
As F.A. Albin & Sons staff travel past the family home, a single rose is placed on the doorstep.
Beautiful, custom-made vehicles are the crown jewels as I mentioned, in a sharp black and burgundy.
Jaguars are their standard coach and limousines of choice, yet the options are endless. Multiple times per year a horse-drawn hearse is requested and delivered.
The funeral home retains an original 1930's Rolls Royce hearse which is still available upon request.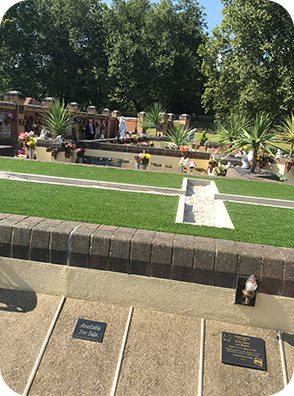 A memorial garden, spacious and beautiful, is situated to one side of the funeral home.
It is a place where cremains may be scattered within a hollowed cross, they may be placed within a niche or they may not be present at all.
A plaque remains to commemorate those lives that have been lost. It serves as a peaceful place for family and friends to pay their respects and to connect with one another as a source of friendship and comfort.
A calming coy pond is situated at the far end of the garden where rocks also serve as memorials.
Mr. Albin-Dyer himself is laid to rest within a mausoleum in his beautiful garden.
More so than I'm used to, floral arrangements truly express something special.
They may spell out "Grandad" or "Mother" and are commonly arranged on and around the roof racks of the hearse and family limousines during a procession.
One thing I found fascinating was that several small name plates lined the iron fence just before the entrance to the memorial garden.
As it turns out, the flowers are not carried into the funeral home and placed on display on or around the coffin as is common here.
Just prior to each funeral, florists will pull up to this designated area and unload their arrangements in front of the respective names for whom services will be conducted that day.
Once the pallbearers have placed the coffin within the hearse at the funeral home, the hearse and limousines will pull up and the flowers will be draped over the top of each of them as a tribute.
I was privileged to see some of the more ornate arrangements such as a small red power chair made from carnations and individual floral letters which spelled out "Grandad Our Hero."
Just prior to the conclusion of our tour, Mr. Amato planned for me to witness a funeral procession departing the facility.
It was a thing of such beauty and prestige, I would think they were conducting services for the Queen of England as they began through the courtyard.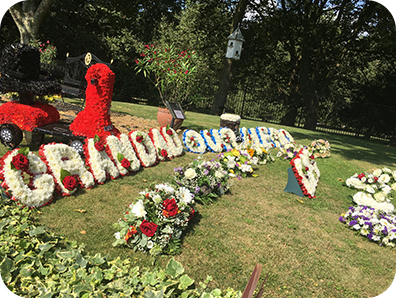 I looked on as their pallbearers carried the coffin to the awaiting hearse and could see through the giant windows of the back end as they gently placed it inside.
The hearse pulled forward and the flowers were loaded in and around the vehicles.
In this instance, they were heading to the family home where loved ones would be collected to proceed to their place of worship.
I left with such a feeling of honor and privilege to have witnessed such ceremony and history.
I will forever be grateful to the staff at F.A. Albin & Sons who took the time out of their busy schedules to educate me.
They have evolved from one of the oldest family-owned funeral homes in London into one of the most modern and accommodating while still preserving their rich heritage and history.
As funeral directors, we will never know it all, but there is nothing more fascinating than opening our eyes to another culture's final goodbyes.
---