Parents enduring the anguish of miscarriage and stillbirth are finding support in Upstate New York from an effort to transform used wedding gowns and formal dresses into burial clothing for infants.
The nonprofit Angel Gowns of WNY has received so many wedding gowns since it formed two years ago that the group is asking folks to hold off on sending more – at least for now.
They distributed more than 2,000 Angel Gowns in 2014, their first year, and 1,500 in the first half of 2015 alone – all at no cost to the recipient.
The all-volunteer group creates as many as 20 burial gowns from a single wedding dress donated by the public, the group's Syracuse area coordinator Fran Hudson said.
The gowns are created in a variety of sizes and colors to meet varying needs of families coping with the heart-wrenching loss of an infant child.
Hudson said it's not easy to find a formal dress or other clothing for an infant that only reached 25 weeks, so providing the Angel Gown eliminates an extremely difficult shopping trip.
"Finding something that will fit is difficult. It's just a very, very sad time and physically and emotionally draining," said Hudson, a retired Home Economics teacher who volunteered to help after learning about it on Facebook.
In some cases, the Angel Gowns are used as a burial dress. Some families use them for a final photograph, then preserve the little gown after the child has reached his or her final resting place.


In Hospitals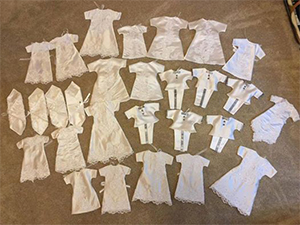 In the short time since it was organized, Angel Gowns of WNY established relationships with roughly 50 hospitals. Some neonatal intensive care units receive several gowns regularly. Hudson said she checks up on them periodically to make sure they have enough. Angel Gowns photo provided by Fran Hudson
The group hopes to make sure funeral directors throughout New York State are aware of the effort that can bring a little solace to grieving parents who may only know their child for a brief moment.
In years past, stillbirths and miscarriages were shunned and hidden and people didn't even talk about it, much less have a chance to grieve.
Recognizing the emotional toll such a loss has on parents, cemeteries today are creating special places to bury and memorialize stillborn and miscarried children.
"Women and their husbands deal with this for the rest of their lives, it's a part of them that's been taken away," Hudson said.
Each gown sent to a family is packaged with a card listing the names of the people who donated the gown and the creator of the Angel Gown. They also share a copy of a poem written by Angel Gowns of WNY's founder, Missy Ray:


Precious little one,
We had you in our lives such a very short time,
But we'll hold you in our hearts forever.
It seemed like only a fleeting moment,
But it was long enough to see you, touch you, hold you, Love you.
It was long enough to know that your life was indeed a gift
No matter how brief, no matter how fragile,
Your life was indeed a gift,
And we'll hold you in our hearts forever

People donating dresses are also given the option of doing so in memory of a loved one – that info is also shared on the card packaged with the gown.
Although they've suspended wedding gown collections temporarily, the group can always use donations, Hudson said.
Funding helps defray the cost of shipping which is also provided free for those in need of Angel Gowns. Donations also help the group buy sewing supplies like needles, lace, ribbon and thread in addition to packaging and shipping materials.
The group created an order request form on their website and Hudson said those in need can be delivered a dress quickly – even overnight, in some cases.
"We would love to provide angel gowns for anyone that feels that they can use them," Hudson said.


---
Ed Munger
Communications & Social Media Specialist
NYS Funeral Directors Association


---