A California woman attending her grandmother's funeral in April 2015 returned home to find family heirlooms – her grandmother's jewelry – among numerous items stolen by burglars.
The old adage about the absence of honor among thieves fits a long list of such crimes that take place when people are in a vulnerable, forgetful state of grief – and when their scheduled whereabouts are revealed by details in a newspaper or online obituary.
A sampling of news reports later in this article reveals some tips people may want to consider when they are in the throes of a recent death.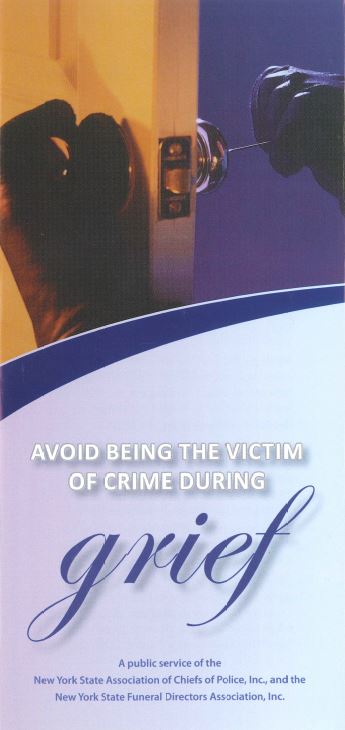 These include keeping valuables stored in cars out of the view of passersby when cars are parked for a funeral in a church parking lot – and locking the doors of those vehicles.
One case listed below also points to the wisdom of asking a neighbor or friend to watch your home while you are at funeral or a visitation.
The New York State Association of Chiefs of Police and the New York State Funeral Directors Association published a brochure titled "Avoid Being the Victim of Crime During Grief."
This brochure is filled with helpful suggestions on preventing crime from compounding sorrow after the death of a loved one. New York State residents can have a copy mailed to them. Send an e-mail to Edward@nysfda.org and don't forget to include your mailing address.
The absence of honor among thieves is borne out in the following news clips depicting thefts from the homes of families in various states of grief – including the parents of the first female U.S. Marine Corps service member who was killed in action during Operation Enduring Freedom.
Their home was burglarized during her funeral - by thieves who bragged about it afterwards.

Victimized While Attending a Funeral in the U.S., selected cases from 2000 - 2015
KENTUCKY | MAY 2015 – A 45 year-old Kentucky man was sentenced to 30 years in prison on a first-degree burglary charge for stealing electronics, jewelry and other items from the home of a couple attending the funeral for their son, a murder victim, in 2012. Police said the burglar and an accomplice were targeting victims using obituaries in local newspapers. (Source: Grayson County News Gazette)
INDIANA |April 2015 – Thieves broke into a family's home while they were attended a wake, stealing numerous items and letting the family's cat out of the house. The cat was later found dead in the road. (Source: Lafayette Journal & Courier)
INDIANA | DECEMBER 2014 – An elderly man attending a funeral returned home to find his home ransacked and the garage door open. Burglars had stolen $2,000 in cash, his prescription medications and Christmas gifts. (Source: Indiana Post-Tribune)
TENNESSEE | NOVEMBER 2013 – A woman told police she and family members were distraught following the death of her father and forgot to lock the door of their car while attending the funeral service. Police charged a local woman with burglary and other counts related to using stolen credit cards. (Source: Knoxville News Sentinel)
MAINE | OCTOBER 2011 – Four people took advantage of the death of a local man and stole jewelry, prescription medication and other items from the home he died in while his caretakers, friends and family were attending his funeral. One of the perpetrators was a relative of the victims. (Source: Bangor Daily News)
INDIANA | SEPTEMBER 2011 – A man returned home from serving as a pall bearer during the funeral of his best friend and found his back door kicked in. Electronic equipment belonging to him along with items owned by his deceased friend were stolen. (Source: Journal Gazette)
OHIO | SEPTEMBER 2011 – Television sets, computer equipment and video games were among items stolen from the home of an Ohio family victimized while they attended a funeral. (Source: Gallipolis Daily Tribune)
CALIFORNIA | FEBRUARY 2011 – Family members were burying their 17 year-old son while thieves were burglarizing their home on the birth date of the youth who died in a rafting accident. (Source: Contra Costa Times)
FLORIDA | MARCH 2010 – Miscreants stole jewelry and cash from the separate homes of two senior citizens, who were sisters, while they were out of town attending the funeral of their sister. (Source: Daytona Beach News-Journal)
WISCONSIN | NOVEMBER 2009 – Police reported responding to four separate burglaries that took place in homes owned by families attending funeral services. Numerous valuables were stolen, prompting police to advice residents to record detailed information about electronics and firearms and photograph valuable jewelry items. (Source: The Capital Times)
OHIO | JULY 2009 – Parents of a two-year-old killed in an ATV accident returned from a funeral home where they were planning the child's funeral and found an antique gun and jewelry had been stolen. (Source: Associated Press Archive)
IDAHO | MAY 2009 – Five vehicles were burglarized in a chapel parking lot while owners were attending a funeral service. Police reported that all the burglarized vehicles had pocket books sitting visible in the front seat. (Source: Lewiston Morning Tribune)
WASHINGTON | OCTOBER 2008 – Thieves gained access to the home of a family attending a funeral through a bedroom window and stole several unidentified items. Residents were only gone from the home for 90 minutes. The week before, police in the same jurisdiction responded to a burglary report at the home of a man who was attending his wife's funeral. (Source: Kitsap Sun)
COLORADO | OCTOBER 2008 – More than $3,000 was stolen from a safe in addition to a rare coin collection from the home of a family attending a funeral while the burglary took place. (Source: Pueblo Chieftain)
MISSOURI | MAY 2008 – A man nicknamed the "Funeral Day Burglar" pleaded guilty to multiple counts after stealing from more than 30 homes in the Kansas City with an accomplice. The pair picked targets using obituaries and listings of homes scheduled for real estate tours. (Source: Rutland Herald)
PENNSYLVANIA | MARCH 2004 – A 73 year-old man who used newspaper obituaries to pick out homes for burglaries was sentenced to more than a dozen years in prison following a crime spree that stretched out over eight Pennsylvania counties. Family heirlooms and one couple's wedding bands were among items stolen. The man also targeted the homes of hunters during hunting season. (Source: Lancaster New Era)
PENNSYLVANIA | OCTOBER 2007 – Police said a couple's request to have a relative house sit for them while they attended a funeral proved successful when a burglar was caught red-handed in their home. The relative who was house sitting hid in the bathroom and called police. Officers arrived to find the burglar with a box of baseball cards and a jar of coins. (Source: AP / The Tribune-Democrat)
PENNSYLVANIA | SEPTEMBER 2002 – The residence of people who died recently – or of families of the deceased – were among 12 homes a Pennsylvania man admitted to burglarizing between September of 1999 and October of 2000. Cash and jewelry were among items stolen, some of which was found at pawn shops. (Source: Pittsburgh Post-Gazette)
INDIANA | FEBRUARY 2002 – Parents of U.S. Marine Corps. Sgt. Jeannette Winters – the first female U.S. service member killed in Operation Enduring Freedom, returned home from her funeral service to find their home ransacked and burglarized. Guns were among valuables stolen by three crooks who were nabbed by a team of 10 detectives working the case. Winters and six other Marines died after their plane crashed on a Pakistani mountain. (Source: Post-Tribune)
ILLINOIS | JANUARY 2000 – Thieves pried open the back door at the home of a person who was out-of-town attending a funeral. Silver coins valued at more than $1,000, bank checks, loose change and a video recorder were among items lifted during the heist. (Source: The Herald News)
---
Ed Munger
Communications & Social Media Specialist
NYS Funeral Directors Association


---