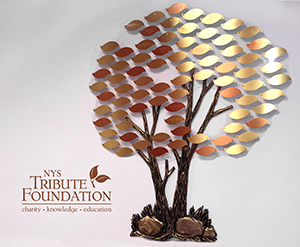 Thank you to our contributors who have made donations to the Tribute Foundation in 2018. The levels at which they are listed are "cumulative" from the Foundation's beginning. Gifts of Remembrance and Gifts in Honor and Celebration are also cumulative and count toward the levels of giving.
---
Tribute Legacy Society - $10,000 or more
Wayne and Sally Baxter (Fox Funeral Home, Forest Hills)
Douglas and Lillian Brueggemann (Brueggemann Funeral Home of E. Northport, Inc., East Northport)
James P. Dean (Campbell-Dean Funeral Home, Inc., Oneida)
Timothy P. Doyle, CFSP (Timothy P. Doyle Funeral Home, Poughkeepsie)
Dutchess Putnam Ulster Funeral Directors Association
William F. Flooks, Jr. (Beecher Flooks Funeral Home, Inc., Pleasantville)
Jeffrey A. and Robin Jennings (Jennings, Nulton & Mattle Funeral Home, Inc., Penfield)
Peter J. Nolan, Mark Nolan and James P. Nolan, Jr. (Nolan & Taylor-Howe Funeral Home, Inc., Northport)
Ontario-Wayne-Yates County Funeral Directors Association
Richard J. and JoAnne Sullivan (Quigley Bros. Funeral Home, Cornwall-On-Hudson)
---
Cornerstone Benefactor - $5,000 - $9,999
Scott B. Anthony, CFSP (Anthony Funeral & Cremation Chapels, Webster)
Erie-Niagara Funeral Directors Association
John Fraser (Holy Rosary Church, Hawthorne)
Henry Gutterman (New York)
Leatherstocking Funeral Directors Association
Scott and Eben Miller (Miller Printing & Litho, Inc., Amsterdam)
Joseph B. Papavero (Papavero Funeral Home, Maspeth)
Sal Stratis (Abigal Press)
Carl W. Trainor (Trainor Funeral Home, Inc., Boonville)
---
Medallion Circle - $2,500 - $4,999
Nancy Eannace (Eannace Funeral Home Inc., Utica)
John and Susan Kelly (Edward L. Kelly Funeral Home, Schroon Lake)
Leslie J. Morris (East Otis, MA)
G. Robert Sweet (Sweet's Funeral Home, Inc., Hyde Park)
Gordon and Joan Terry (Edmeston)
---
Keystone Contributor - $1,000 - $2,499
American Funeral Consultants (New Paltz)
Fred Bryant (Bryant Funeral Home, Inc., East Setauket)
Peter C. DeLuca and Gregory Zannitto (Greenwich Village Funeral Home, Inc, New York)
Jeff and Peggy Gaines (Glen Rock, NJ)
Dick and Donna Hazzard (Patterson)
Wesley A. and Wesley C. Powell (Powell Funeral Home, Inc., Amityville)
Melissa A. Sorce-DeNicola (Joseph W. Sorce Funeral Home, Inc.)
---
Tribute Pioneer - $500 - $999
Beth Burlingame (Altamont)
Billings Memorial, Inc. (Pine Bush)
Donna DeMarse (Fitzgerald Funeral Home, Ltd., Cohoes)
Lester R. Grummons (Lester R. Grummons Funeral Home, Oneonta)
Bruce Ironside (Ironside Funeral Home, Inc., Oneida)
The McVeigh and Parente Families (McVeigh Funeral Home, Inc., Albany)
Patriot Guard Riders
John C. Patterson (Edward C. Finn Funeral Home, Inc., Stony Point)
---
Foundation Fellow - $250 - $499
Jean B. Davis (Theresa)
Mark LaRobardiere (LaRobardiere Funeral Home, Inc., Camden)
Dorothy C. Pacimeo-Comodore (McManus-Lorey Funeral Home, Medford)
Bruce and Eleanor Troy (Burnett & White Funeral Homes, Red Hook)
---
Friend of the Foundation - $100 - $249
Peter Cassidy (McHoul Funeral Home, Hopwell Junction)
Shawn A. Fahey (Estey, Munroe & Fahey Funeral Home, Owego)
Don E. Falardeau (Falardeau Funeral Home, Inc., Baldwinsville)
Michael Kelly (Doran Funeral Home, Seneca Falls)
Richard Lalli (William M. Gagan Funeral Home Inc., Pine Bush)
Douglas G. Tappan (Allanson-Glanville-Tappan Funeral Homes, Inc., Phoenix)
William L. Trudden (McCourt & Trudden Funeral Home Inc., Farmingdale)
Harry VanVliet (Gilpatric-VanVliet Funeral Home, Ulster Park)
In Memory of Ambrose Babella
Henry Gutterman
Gordon and Joan Terry
Richard and JoAnne Sullivan
---
In Memory of Mark R. Burlingame
---
In Memory of Steven R. Davis
---
In Memory of Warren Fitzgerald Sr.
---
In Memory of John Friedel Jr.
---
In Memory of Sharon Grummons
---
In Memory of Edward Mahar
Richard and JoAnne Sullivan
---
In Memory of Sylvia R. Mauriello
---
In Memory of Joel F. Morris
---
In Memory of J. Gerard Quigley
Richard and JoAnne Sullivan
G. Robert Sweet
---
In Memory of Frederick H. Stahl
---
In Memory of Franklin L. Steinberg
Henry Gutterman
Dick and Donna Hazzard
Richard and JoAnne Sullivan
Gordon and Joan Terry
---
In Memory of Arthur T. Sullivan
Doug and Martha Brueggemann
Robert Enos
Dick and Donna Hazzard
Joe and Rana Huber
Richard and JoAnne Sullivan
G. Robert Sweet
Gordon and Joan Terry
---
In Memory of Raymond J. Sullivan (13th year Anniversary)
Richard and JoAnne Sullivan
---
In Memory of Emma Stiles Walkup
The McVeigh and Parente Families
---
In Memory of Elizabeth Westcott