JULY 15, 2014 -- The NYS Tribute Foundation Board of Directors voted to award a $5,000 grant to Camp Healing Hearts, a program provided by Hospice of Central New York's Grief Center.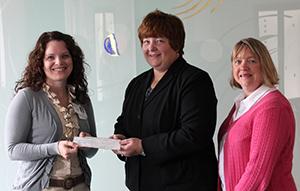 Camp Healing Hearts is a day camp for children entering grades one through six who have experienced the death of a loved one.
The Camp provides traditional camp activities such as swimming, arts and crafts and horseback riding, as well as circle time which allows the children to share their stories, get to know each other, and share healthy ways of coping.
Camp Healing Hearts is free of charge and will be held the last week of August this year, in Manlius, NY.
The NYS Tribute Foundation accepts applications for grants to help needy causes each year. Learn more about the NYS Tribute Foundation grant program.