The death of a loved one leaves children confused, angry and afraid – and there are few places for youngsters facing such loss to learn how to cope with it.
After receiving increasing requests for support from families, the Visiting Nurse Service Hospice of Rochester and its partners developed Camp Heartstrings / Camp Dreams - a three-day summer day camp for bereaved youths aged 7 - 14.
The program, established in 2014, won the support of a $3,000 grant from the NYS Tribute Foundation – a charitable nonprofit organization created by the New York Funeral Directors Association to support the understanding of death, dying and bereavement.
Camp Heartstrings brings together the care and expertise of social workers, a family and marriage counselor and a child life specialist. All trained in grief, they bring children together with others their age who are facing a similar plight.
"Many times children do not know anyone else who has experienced the death of a close loved one," said camp director Michele Allman, a Licensed Master's Social Worker.
"The camp provides an opportunity to meet and talk with others who understand how they feel. Children report the best part of camp is being with others who understand," Allman said.
In July 2015, the camp welcomed about 40 children over the course of three days, many of whom hadn't yet talked about their loved ones or how they died.
Allman said the first day entails youths getting to know each other, introducing their loved ones, and establishing friendships with other children and with the counselors. "We provide a safe environment for them to learn to trust others," Allman said.
Invisible String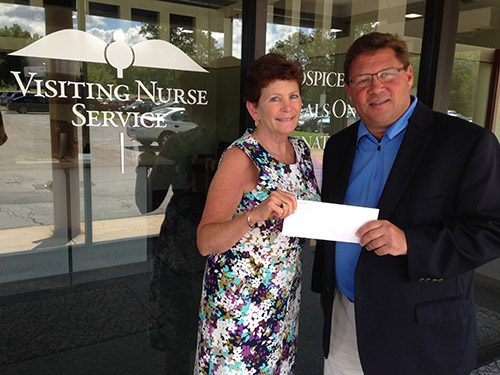 Camp Heartstrings was initially developed using The Invisible String, a children's book about connections people have with others they are unable to be with.
"We are connected with others based on relationships, experiences and love whether or not we can see the person we love," Allman said.
The three-day experience is filled with activities. The children go on a scavenger hunt to find rocks containing words that express grief-related feelings. They discuss those feelings with others.
They spend time exploring these emotions, they memorialize their loved ones, and they learn to express and confront their feelings with activities including art therapy – a nonthreatening way to express difficult feelings.
Yoga is seen as way to improve self-esteem, concentration and balance.
Fun, Allman said, is an important part of the process too. "It's important to balance grief and fun to ensure healing," Allman said.
On their third day, the children focus on maintaining a common bond, supporting each other and looking towards a future without their loved one.
They conclude the final day with a family dinner followed by a balloon release symbolizing hope and new beginnings.
Visiting Nurse Service Hospice of Rochester partnered with Pittsford Youth Services and Nazareth College to develop the bereavement camp.
Dreams from Drake, a support group for grieving children, joined the team in 2015, providing Camp Heartstrings attendees with the option of joining monthly get-togethers if they want.
Organizations involved in bereavement and grief are encouraged to apply for a grant from the New York State Tribute Foundation. Learn more about the NYS Tribute Foundation grant program.