The car failed inspection and now you need an $800 brake job. The washing machine sprung a leak on the day you went to catch up on laundry.
Your favorite group just announced tour dates and tickets will probably be sold out by tomorrow.
The need for emergency money can arise at any time, but people often find themselves short because they haven't been saving.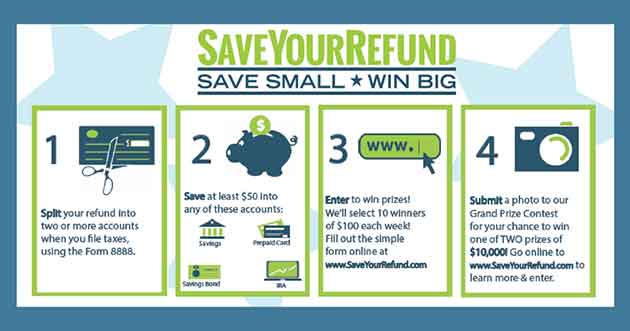 At DCCU, we're looking for ways to help folks jumpstart their savings, so we're joining America Saves and Commonwealth in urging people to take part in the Save Your Refund initiative.
It's a simple program with a straightforward goal – get people to save at least $50 of their tax refund and give them a chance to win money at the same time.
Save Your Refund is organized by America Saves and Commonweath. These organizations, like DCCU, are dedicated to helping people improve their financial situation.
Directing our members towards the chance to win money is a great way to do it!
Prizes of $100 and $10,000
Include an additional form in your Income Tax return directing $50 or more of your refund to a savings account and you'll be in the running to win a $100 prize.
And with a photo depicting yourself and your savings goal, you can enter to win a grand prize of $10,000.
To participate, all you have to do is include the IRS Form 8888 with your income tax return and fill out the prize program entry online.
You can also use this form to buy a CD, IRA, and a savings bond – all of these savings methods are eligible!
Don't worry about searching for the IRS form – we've got one you can download right here on this webpage.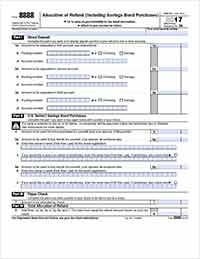 Just click the form, download it and it's yours to print. It's a fillable form so you can type in your info before you print it.
On the form, direct $50 (or more) of your refund to a savings account, fill out a few lines on America Saves' Save Your Refund website, and you're in!
You can also use this form to buy U.S. Savings Bonds – in $50 increments – and this form of savings will qualify you to win as well.
You'll need a routing number for your savings account to complete the form – this tells the IRS where to send the money.
Call Directors Choice Credit Union at 800-593-5920 and we'll get you the numbers you need!
Here is a link to the Save Your Refund sign-up form: CLICK HERE TO ENTER SAVE YOUR REFUND
Hang onto a copy of your form 8888 – you can use that copy to certify your eligibility to win the money.
Good luck saving and winning!
Questions? Send an e-mail to Social@DirectorsChoiceCU.com
---