The cost of gasoline went on the rise in early 2017 – and a few cents per-gallon can add up to hundreds of dollars a year for businesses that rely on vehicles like limousines and hearses.
In the U.S., the average individual consumer spends more than $2,000 a year on gasoline.
For many small businesses, such as a funeral home, energy costs are considered one of the top-three biggest expenses so saving on fuel is a way to boost cost-effectiveness.
There is help to reduce this constant cost – in many cases right from the gas station frequented by the small business.
In the eastern regions of Upstate New York, for example, the convenient store Cumberland Farms offers a simple way to save $0.10 per-gallon every time you fill up.
It doesn't sound like much. But when you compare the cost – with this savings - to neighboring outlets, you might be surprised.
One of the easiest ways to find gasoline savings is to look around the gas station you use most often when you're filling up.
Many will have brochures right near the pumps or inside the store highlighting the savings available by using one of their cards.
ExxonMobil, Citgo, BP, Gulf and Hess are but a few fuel brands that offer per-gallon savings.
The Cumberland Farms "SmartPay" program will provide the discount right at the pump.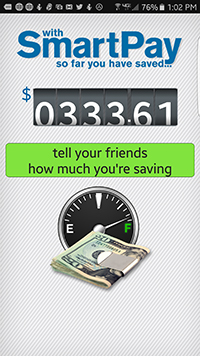 Others, such as the Chevron and Texaco Visa card, require a minimum monthly expenditure and offer up to $0.20 per-gallon savings.
As you research your options, you'll find some gasoline-based Credit Card offers include boosted savings in fuel when you use the card to buy other things – with limits.
Savvy business owners can also do a bit of investigating thanks to the modern technology of a Smart Phone.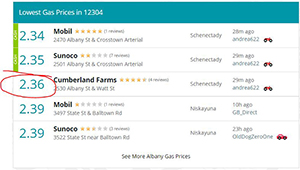 GasBuddy is a nationwide price monitoring website providing daily gasoline price comparisons for the entire nation and for YOUR neighborhood.
It offers an App that you can download onto your Smart Phone to check prices before you head out to fill up.
It will tell you where you can find the lowest per-gallon cost for gasoline.
It's also "smart" in terms of location – so you can CLICK THIS LINK and you'll see which of your neighborhood gasoline stations is offering the best price.
Be sure to check the listing, too – sometimes the best price is only for "cash," and you don't want to be surprised by a higher price because you're using a debit or credit card.
For those unaware – fill your tank ahead of time if you have to travel on the NYS Thruway.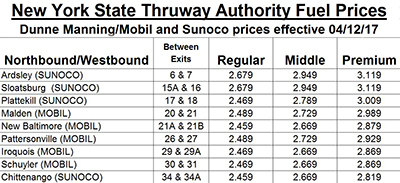 Don't buy gasoline on the New York State Thruway or you can expect to spend MORE than necessary.
Credit cards offering "cash back" are another option offering small business owners a way to save money on gasoline.
The Consumer Reports Credit Card Adviser Comparison Tool offers an easy way to see which card offers the best savings depending on what you'll spend each month.
The website's BETA version of the tool compiled data for more than 70 different credit cards in early 2017. CLICK HERE to give it a try.
For more in-depth information on credit cards, consider taking a look at the Credit Cards.com website's Credit Cards Reviews page.
In some areas of New York State, there is also another way to save on gasoline.
The Price Chopper and Market 32 Grocery Market chain's Fuel AdvantEdge program applies a discount to the cost of gasoline, up to 20 gallons worth, each time you make purchases at the grocery store.
Here are some links with information on money-saving gasoline cards and credit cards:
BP - http://www.bpbusinesssolutions.com/
Citgo - https://www.citgo.com/CreditGiftCards.jsp
Exxon Mobil - https://www.exxon.com/en/gas-cards-and-payment
Fastrac - https://fastraccafe.com/cards/member-card-account/
Getty - http://www.fuelexpress.net/acceptance/getty/
Gulf - https://www.gulfoil.com/GulfCards.aspx
Speedway - http://www.superfleet.net/
Sunoco - https://www.sunoco.com/
Valero - https://www.valero.com/en-us
---